4th global conference of the Sustainable Food Systems Programme: The Transformation We Need
Emerging from global crises by shaping sustainable, resilient, healthy, and inclusive food systems
Hybrid Event, 24/04/2023 - 27/04/2023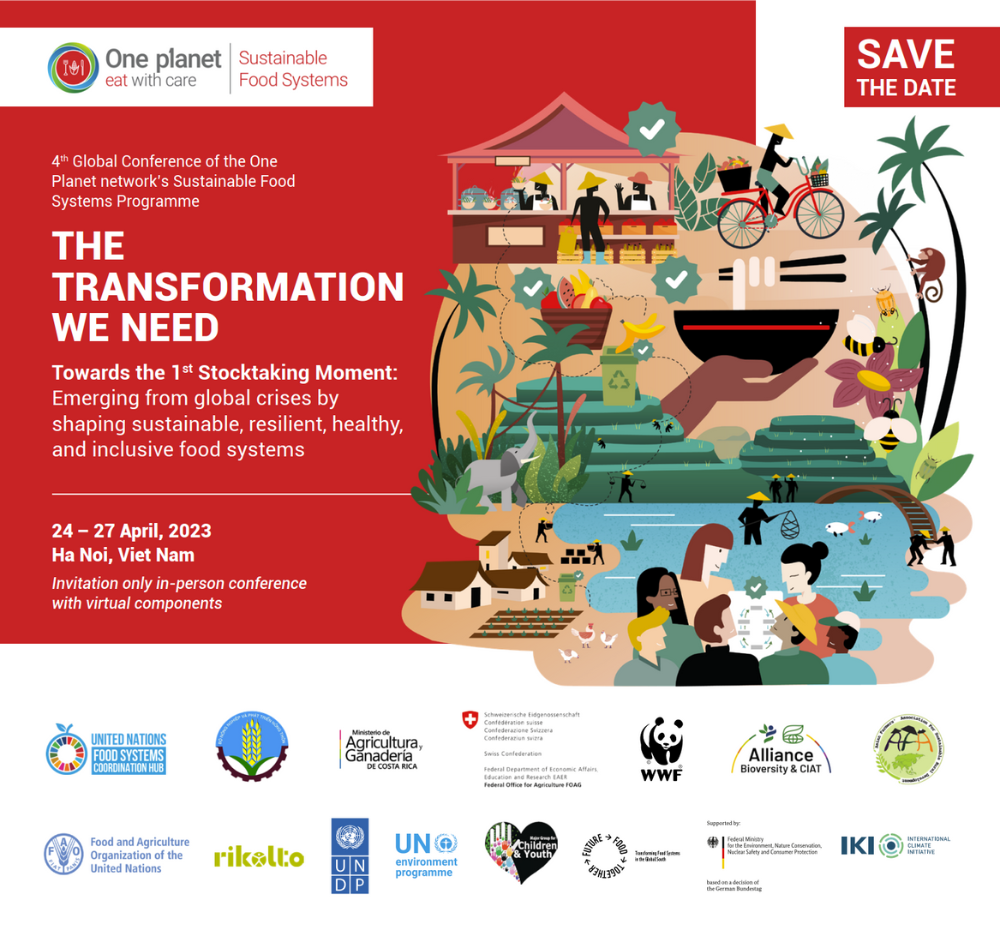 Invitation only in-person conference with virtual components
You are invited to participate in the conference 'The Transformation We Need', co-organized by the UN Food Systems Coordination Hub and the One Planet Network's Sustainable Food Systems Programme. The conference will take place from 24 to 27 April 2023 and will be hosted by the Ministry of Agriculture and Rural Development of Viet Nam.
A limited number of participants representing national and sub-national governments, civil society organizations, farmers associations, scientific organizations, UN Food Systems Summit (UN FSS) Coalitions, youth organizations and a range of further food systems actors will be invited to participate in person in Ha Noi, Viet Nam. The conference will also be virtually broadcasted via livestream, open to the public.
The event will contribute to the 2023 Stocktaking Moment of the UN Food Systems Summit follow-up process, by focusing on how food systems need to be transformed to overcome the multiple deeply rooted and interlinked crises of climate, biodiversity, conflict, energy, prices, hunger, malnutrition, and health to achieve the SDGs.
The main objectives of the 4th global conference are:
To present transformational actions, tools and initiatives that have emerged since the UN FSS with a view to promote their uptake and upscaling in national and local policy-making processes.
To further promote the food systems approach and inclusive governance and collaboration at all levels – including multilateral and particularly Rio Conventions – with a view to foster their uptake for the development of multi-sectoral action plans towards sustainable consumption and production in food systems; and
To provide a space for National Convenors, UN FSS coalitions and other relevant multi-actor initiatives as well as other food systems actors such as youth, civil society and farmer organizations, to build capacities and deepen their collective efforts towards sustainable food systems pathways, in view of the UN FSS 2023 Stocktaking Moment.
Kindly save the dates from 24 to 27 April 2023!
More information coming soon – visit the conference website.