Our Work Plan
The UN Food Systems Coordination Hub serves as a catalyst inside the UN system in relation to food systems and the 2030 Agenda. Our role is to continue to support food systems national dialogues and national pathways through the coordination of technical and policy support requested by countries as they formulate and implement national pathways for food systems transformation. We work closely with the broader ecosystem of actors – including coalitions and other initiatives, as well as the science ecosystem – to promote better integration of these efforts with country demand and elevate priority topics in the food systems transformation agenda for strategic thought leadership by UN agencies and leading actors within the Ecosystem of Support.
We follow several performance-based and innovation-driven management principles and human rights-based approaches for highest efficiency, impact, trust and credibility, including:
Work according to the three fundamental attributes for a human rights-based approach
Lean management for efficient delivery of quality outcomes
Agile management for adaptability, resilience and flexibility towards the ever-changing circumstances and needs of countries
Accountable management for reliability, integrity, and transparency
Human-centered design to ensure solutions are demand-driven
Against this backdrop, the Biennial Hub Work Plan covers the timeframe between the launch of the Hub until the UN Food Systems Summit +2 Stocktaking Moment set to take place in July 2023.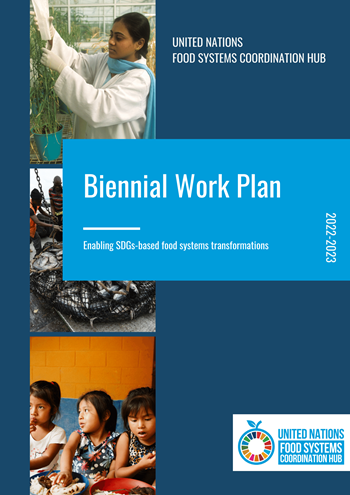 read more