Side Events at the UN Food Systems Summit +2 Stocktaking Moment
The formal programme of the UN Food Systems Summit +2 Stocktaking Moment is complemented by a range of side events on thematic issues related to food systems transformation.
Midday: In-person/hybrid side events
Afternoon: High-level event hosted by the Government of Nigeria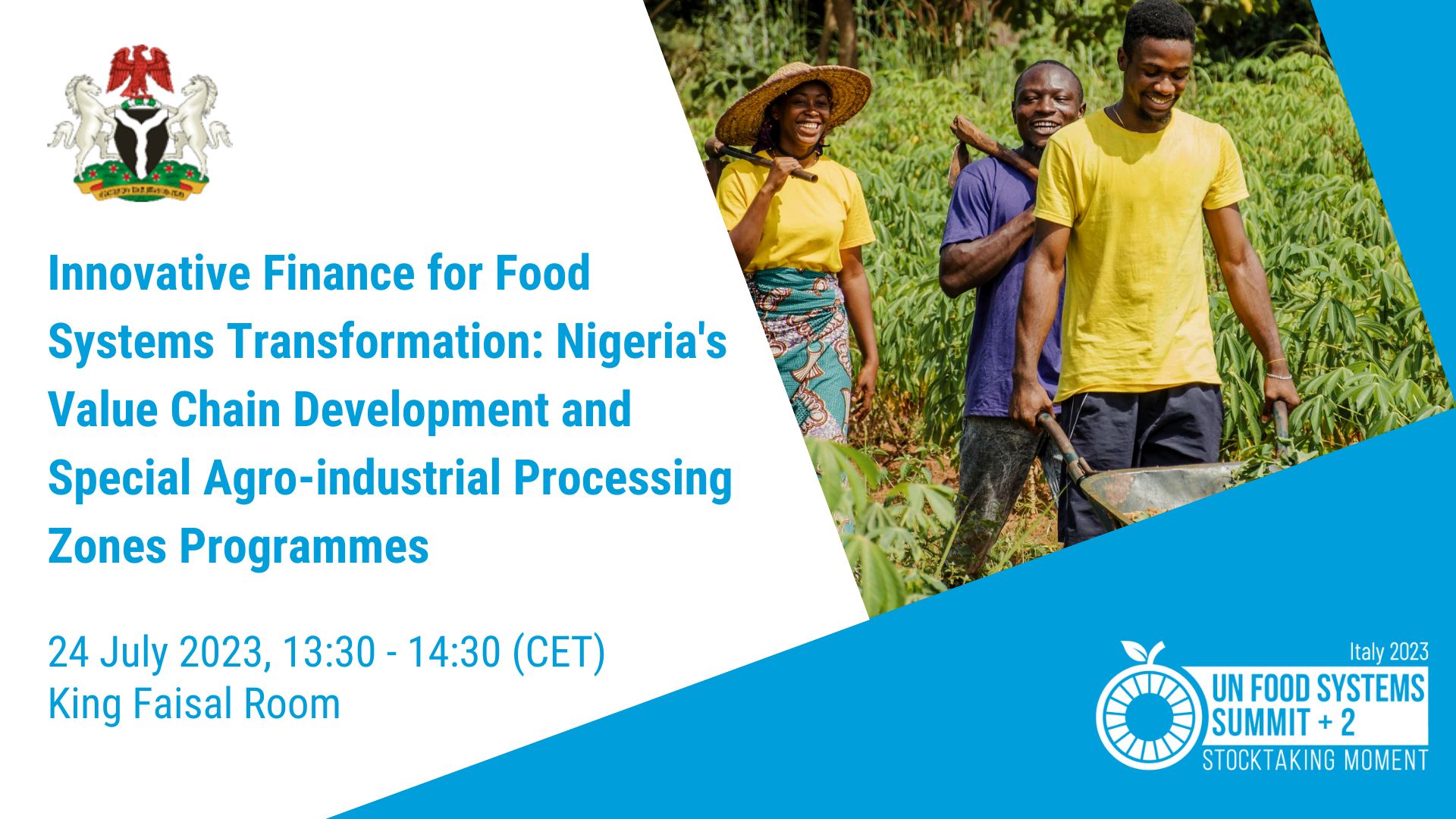 Time: 13:30-14:30 (CET)
Room: King Faisal Room - D223/ D263
Hosted by the Government of Nigeria
Hosted by H.E. Senator Kashim Shettima, Vice President of the Federal Republic of Nigeria, this event will showcase an inspiring case of public-private financing at scale for food systems transformation that does not leave smallholders behind.
Ceres (2030) reports that transforming the food systems requires US$350 billion annually for the next decade to achieve SDG 2. An estimated USD400billion additional financing is required annually to reduce $12 trillion social, economic and environmental costs in food systems. The criticality of finance was re-emphasized at the January 2023 Feed Africa Summit, attended by leaders of government, development organizations and private sector who committed to advancing innovative food financing. The goal of this event is to leverage Nigeria's experiences to scale up innovative financing for food system transformation.
Read more about this event: Information leaflet
Evening: Virtual side events
Evening event: SDG Action Awards Ceremony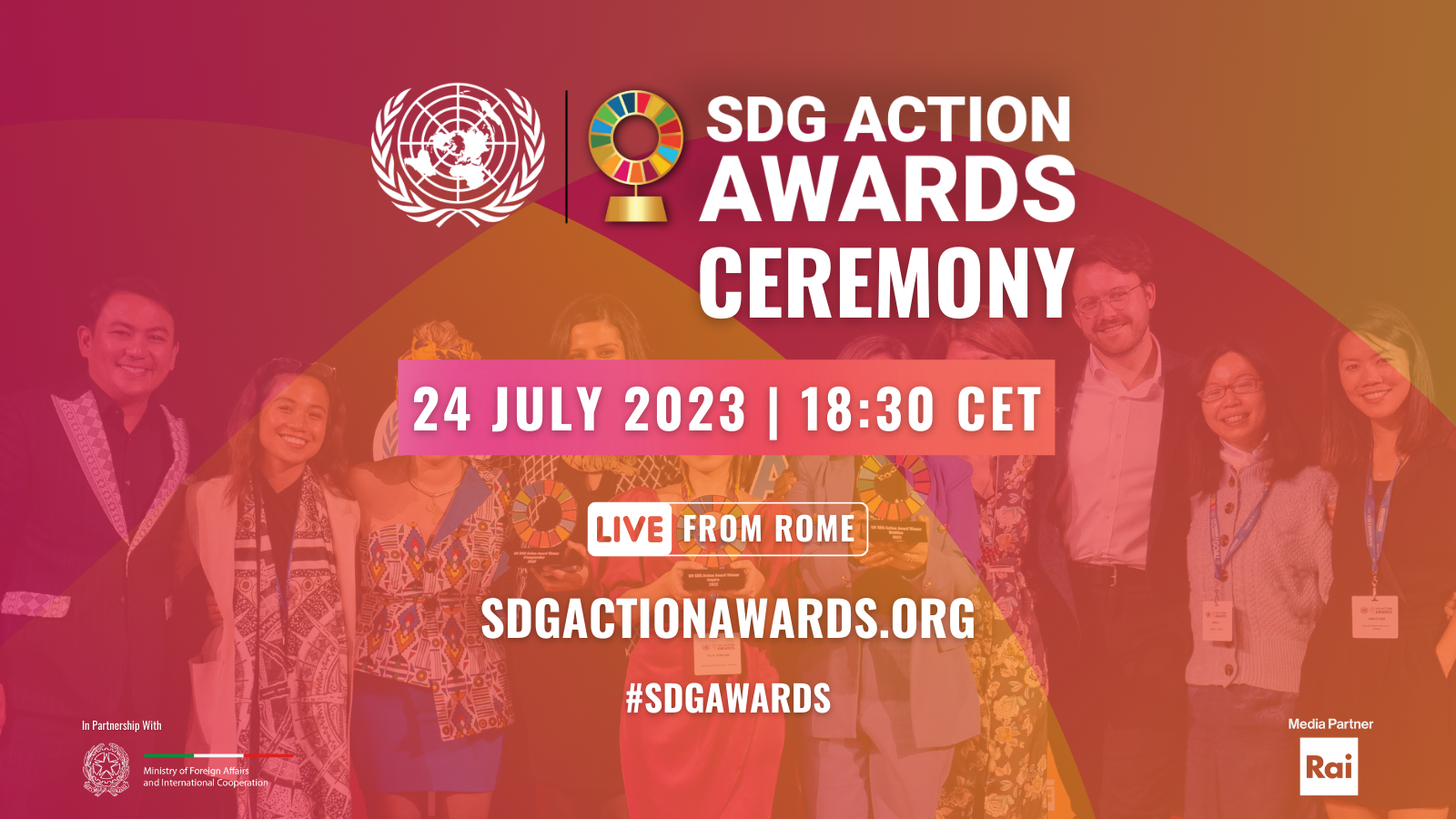 Time: 18:30-19:30 (CET)
Room: Plenary
Tune in Live to the 2023 UN SDG Action Awards Ceremony which will recognize and honour SDG changemakers from around the world.
From Estonia and Brazil to Colombia and Tanzania, the 2023 UN SDG Action Awards finalists show the world what it means to unite to act for the SDGs and make change happen for a more sustainable future for all.
This vibrant awards ceremony will include performances from UNCCD Goodwill Ambassador and musician, Inna Modja, Nigerian singer-songwriter, Chioma ''Cill'' Obgonna, and Italian superstar, Mr. Rain.
Read more:
#ACT4SDGs @SDGaction
Morning: Virtual side events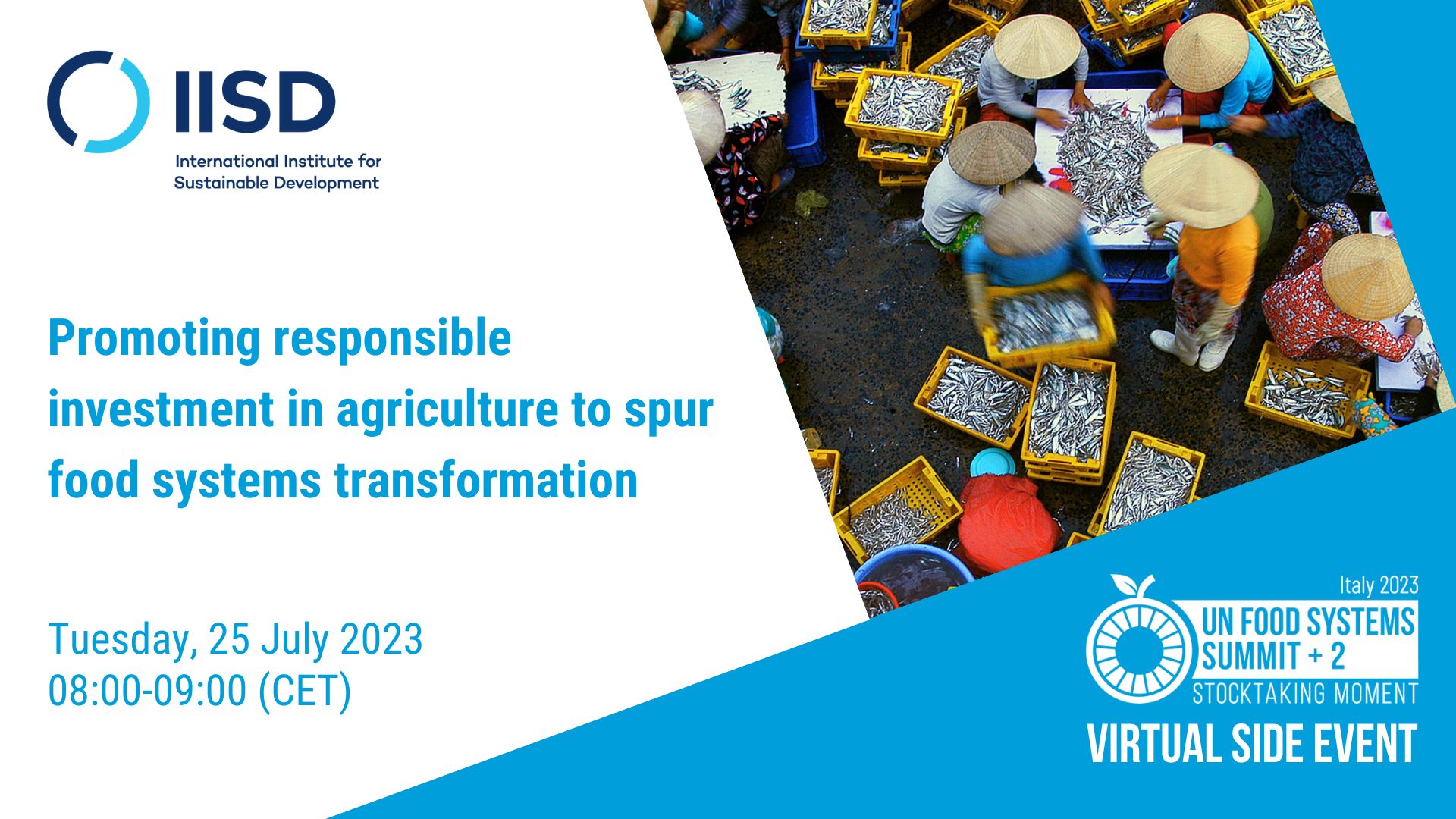 Lead organizer: International Institute for Sustainable Development (IISD)

About this side event: This side event will provide an opportunity for representatives from the governments of Kenya and Indonesia to share their experiences in promoting responsible investment in agriculture and explain how these efforts support national food system transformation and sustainable development objectives. Representatives from the private sector and CSOs will also provide insights into how they engage with and support such investment. We will reflect on how their collective efforts can lead to legal, policy, and institutional environments that are conducive to responsible investment goals.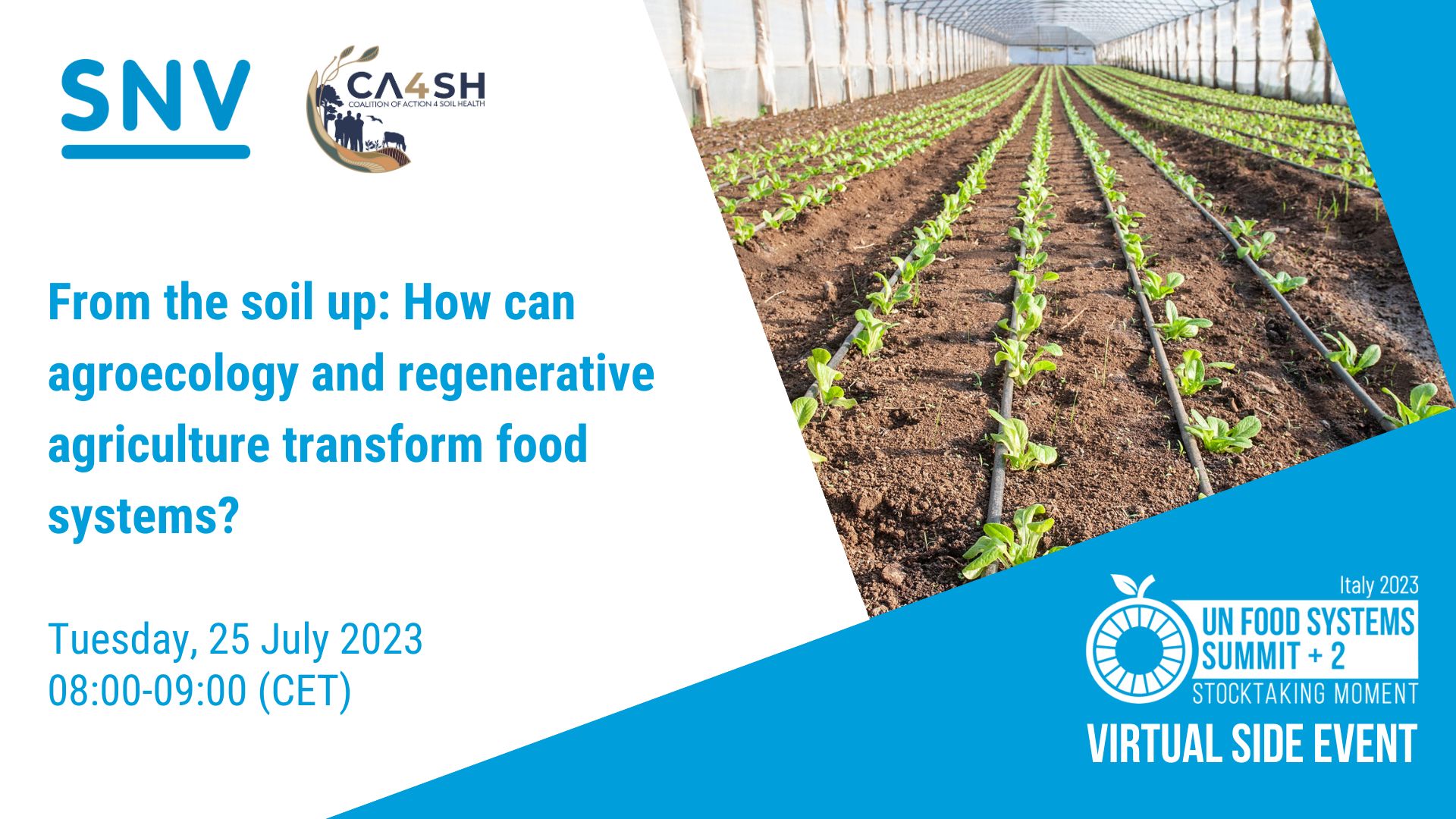 Lead organizer: SNV Netherlands Development Organisation
Co-organizer: Coalition of Action 4 Soil Health (CA4SH)
About this side event: Land degradation continues to negatively impact 3.2 billion people. Agroecology and regenerative agricultural systems can be part of the solution, providing safe and nutritious food, enhancing above and belowground biodiversity, storing carbon, and improving water storage and cycling. Join us for an exploration of the transformative power of agroecology and regenerative agriculture on our food systems. This webinar tackles the urgent issue of land degradation and highlights the potential of these sustainable systems to contribute to ecosystem restoration. Our objectives are manifold: we aim to raise awareness, showcase collaborative action, highlight impactful evidence, and call for more investment in these eco-friendly farming systems. Our audience will gain crucial insights into the role of these systems in aligning nature, people, and prosperity, as well as their significance in achieving the Sustainable Development Goals (SDGs). We aim to deliver a deeper understanding of the importance and scalability of agroecology and regenerative agriculture. We will collectively identify bold policy actions and practices, aiming to foster an environment conducive to supporting, financing, and scaling agroecosystems. Together, we will chart a comprehensive roadmap for multistakeholder action in creating a resilient and sustainable food system.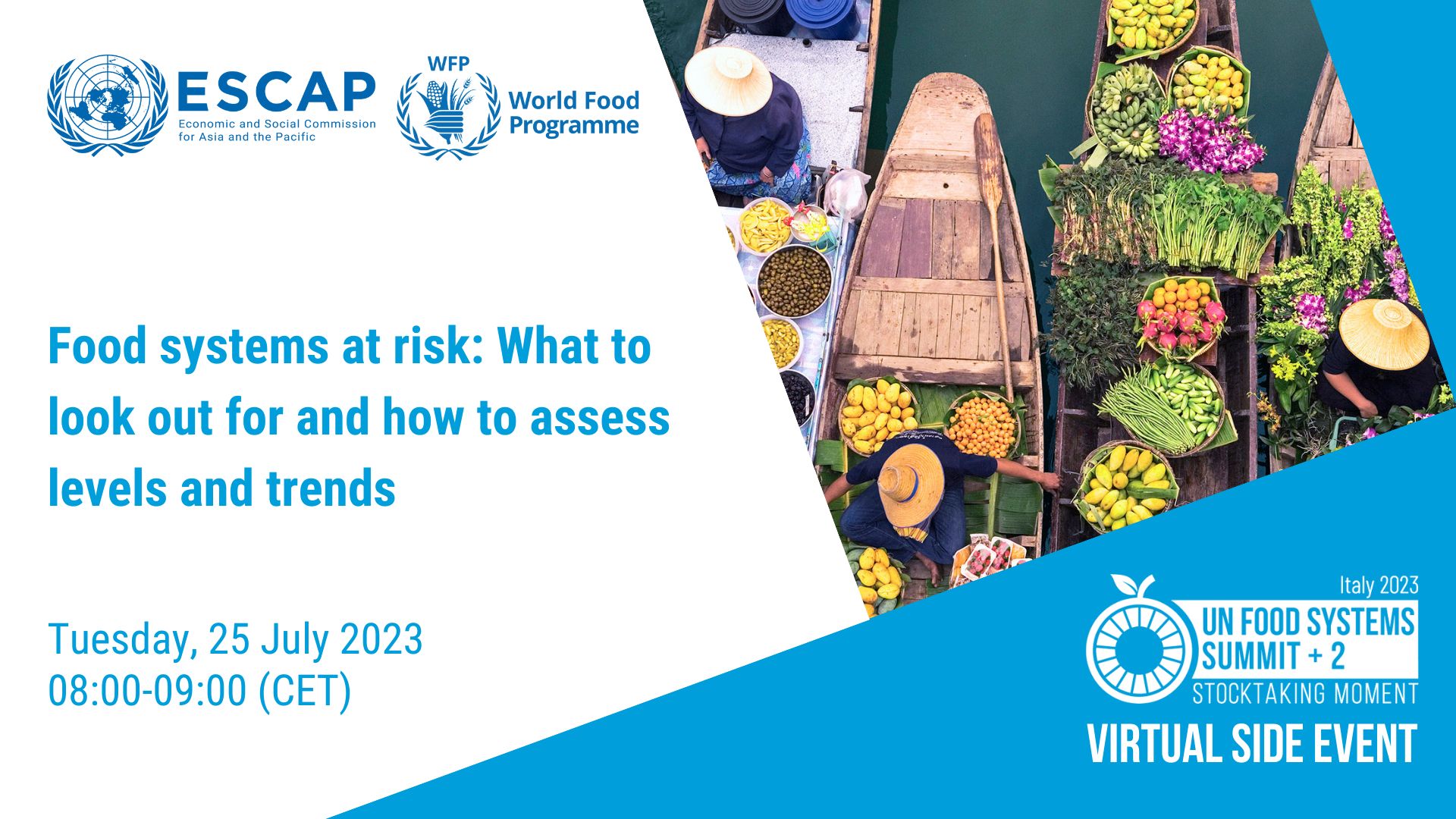 Lead organizers: ESCAP / WFP

About this side event: Risk-informed implementation of food systems transformation pathways is critical for building resilient, healthy, sustainable, and equitable food systems. Organized by ESCAP and WFP, this event will discuss food system risks to look out for and some countries' approaches to addressing these risks in the context of climate change, conflicts, epidemics, trade disruptions, price shocks, and other compounding crises. The event will also introduce a practical tool that provides insights into food system risk drivers and trends which can support policymakers and development partners to identify key areas for policy interventions.
Midday: In-person/hybrid side events
Afternoon: High-level event hosted by the Government of Italy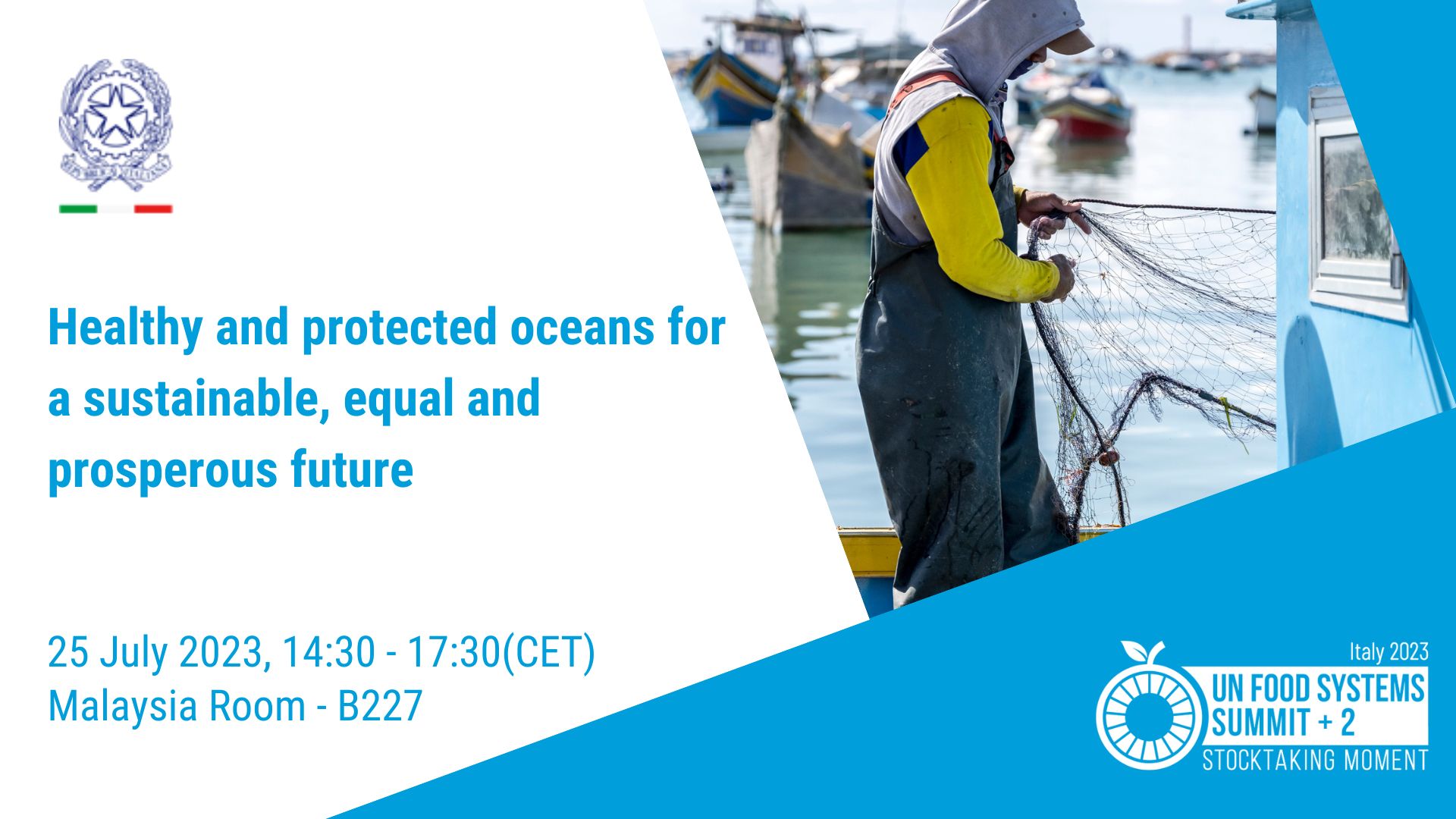 Time: 14:30-17:30

Room: Malaysia - B227
Hosted by the Government of Italy
By invitation only
Oceans and seas play a crucial role for ecosystems, food security, the transportation of goods and services, particularly for Small Island Developing States (SIDS). It is widely visible that seas are subjected to increasing pressure that alters their functions, threatens biodiversity, reduces natural and economic resources. In this context, SIDS bear the greatest burden in terms of climate change. However, they are not alone in facing the challenges ahead.
Exchange of experiences and practices from different countries is key to raise awareness and develop joint adaptation strategies for changing oceans and seas. This is why ensuring "Healthy and Sustainable Oceans" is a priority to be achieved by 2030, in line with SDG 14 "Life Below Water". In this context, marine protected areas play a crucial role in log-term conservation, by supporting climate change adaptation and mitigation while providing other ecosystems services.
This event aims to promote action-oriented partnerships among SIDS and other national and international stakeholders attending the event. These partnerships can build on existing best practices and lessons learned in terms of reducing pollution and the negative impacts of climate change on maritime natural resources; protecting oceans and seas; restoring degraded habitats.
Evening: Virtual side events
Evening event hosted by the World Farmers Market Coalition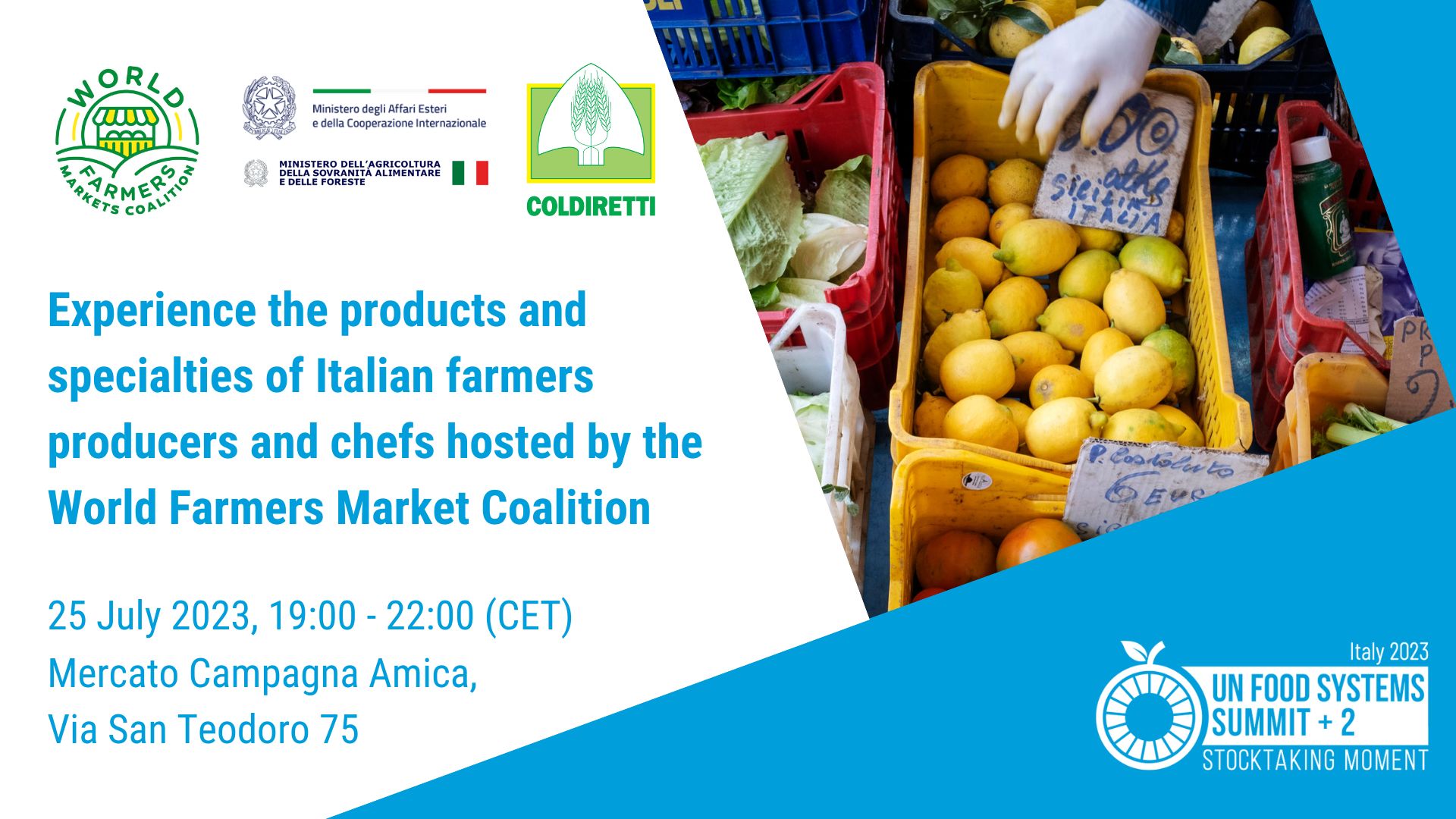 Time: 19:00-22:00
Location: Mercato Campagna Amica, Via San Teodoro, 74
The Ministry of Foreign Affairs and International Cooperation, the Ministry of Agriculture, Food Sovereignty and Forests, Coldiretti, and the World Farmers Markets Coalition (WFMC) on the occasion of the UN Food System Summit+2 - Stocktaking Moment have organized an evening event where participants will experience the products and specialties of Italian farmers producers and chefs. The event will be dedicated to presenting the World Farmers Market Coalition.
The invitation is open to Heads of Delegation for a seated dinner and for wider members of delegation for an open reception. Please register at the RSVP ([email protected]).
Morning: Virtual side events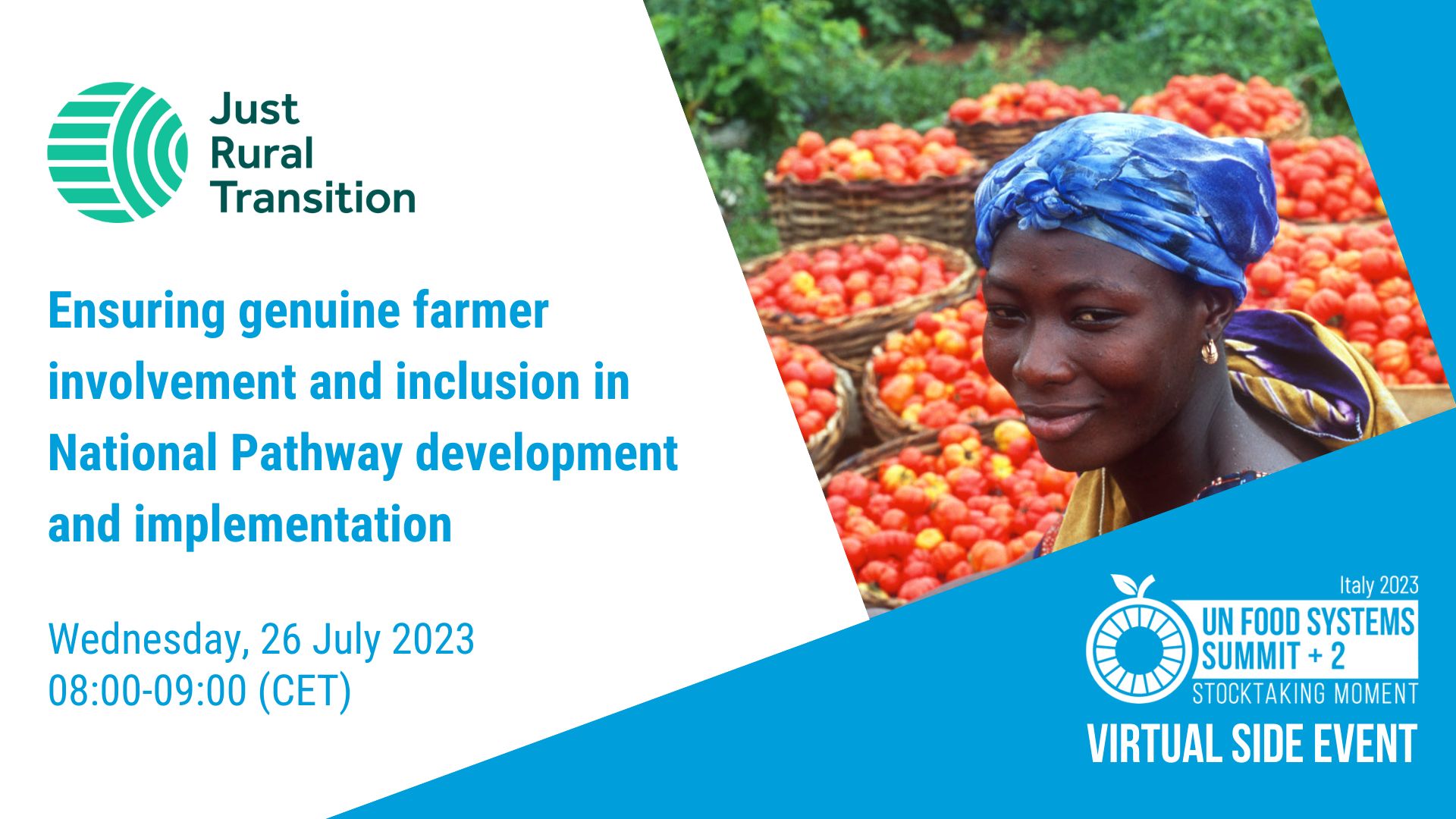 Lead organizer: Just Rural Transition Initiative

About this side event: Multi-stakeholder involvement is central to the development and implementation of Food Systems National Pathways. Farmers will be responsible for many of the changes needed on the ground to respond to the challenges of meeting the triple objectives of food and nutrition security, climate change mitigation and adaptation, and halting and reversing biodiversity loss. Such changes will have knock-on effects across the food system.
To fulfil their role and help to bridge the implementation gap that still exists between the current situation and countries' ambitions, farmers need to be fully involved in the process of designing and rolling out national pathways, and other upcoming processes. This event will bring together representatives from regional farmer organisations and international initiatives to promote a just transition to sustainable food systems and discuss their experience in participating in national pathways, featuring positive examples from countries and highlighting challenges to genuine farmer influence over the design and implementation of national pathways.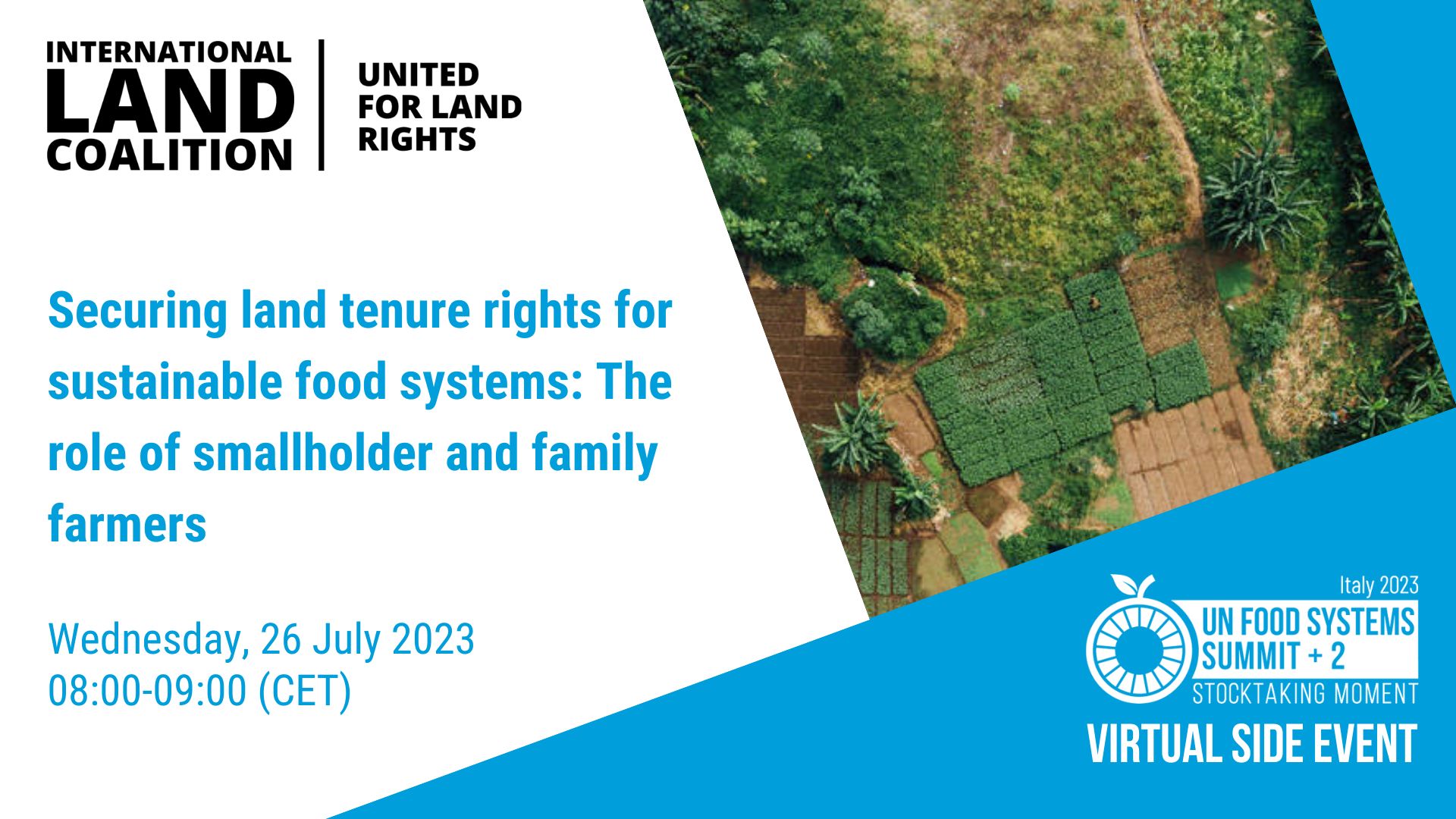 Lead organizer: International Land Coalition (ILC)

Co-organizers: International Fund for Agricultural Development (IFAD) / Confederation of Organizations of Family Producers of the Expanded Mercosur (COPROFAM) / Asian Farmer's Association for Sustainable Rural Development (AFA) / UJAMAA COMMUNITY RESOURCE TEAM (UCRT) / World Rural Forum (WRF)
About this side event: ​ Family Farming presents the most promising prospects for achieving the required transformation, encompassing production systems and food governance in the context of climate change and interconnected crisis. It entails the transition towards more agroecological and resilient practices, ensuring the preservation of biodiversity, efficient management of natural resources and the capacity to confront climate change while respecting the contexts, cultures, approaches and constraints of each farmer. Secure tenure of land is the cornerstone of this transition: meeting the right conditions to invest, protect, and restore their land, accessing credit, improving farming techniques to fight against land degradation and improving productivity sustainably.
Bringing in the voices of smallholder and family farmers organisations, including pastoralists, to the STM will shine light into their enormous potential as solution providers. In connection with their long standing experience in building public policies and in the context of implementation of the United Nations Decade of Family Farming, they will share the priorities of public policies and actions related to securing land tenure to be included in their national pathways.
As a follow up, the farmers and pastoralists organizations will continue strengthening multistakeholder dialogue and policy processes to drive the transformation towards more sustainable, resilient, socially and culturally appropriate and nutrition-sensitive food systems.
Midday: In-person/hybrid side events