Key Inputs from Summit Workstreams
ACTION TRACKS: AREAS OF ACTION AND APPROACH TO MULTI-STAKEHOLDER INITIATIVES, AND COMMITMENTS TO ACTION
Overall Summit Portfolio of Actions
The Summit is giving rise to the following Portfolio of Action that can continue on in the years ahead to drive continuous progress on the food systems agenda: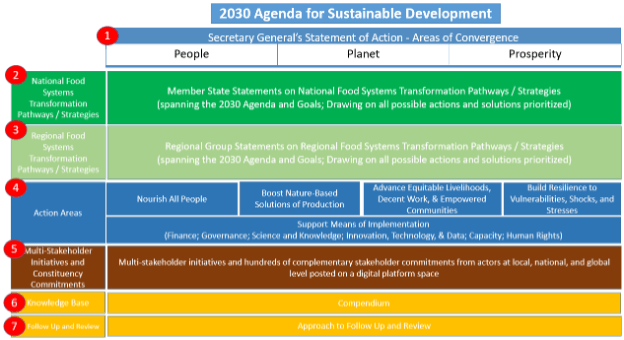 The Food Systems Summit's Portfolio of Action
Each of the pieces of the Summit's Portfolio of Action serves a particular role in accelerating action and delivering results on the 2030 Agenda, particularly at country level.
The Secretary-General's Statement of Action will set an optimistic and encouraging vision in which food systems play a central role in realizing the vision of the 2030 Agenda and in service of building a fairer, more sustainable world. This Statement and its ambitions for food systems will encourage action at the time of the Summit, as well as into the years ahead as Member States and constituencies continue to take action aligned with this agenda.
In the shadow of the impacts of the COVID-19 pandemic, the process of engagement by Member States and stakeholders in the Summit has reaffirmed that the vision of the 2030 Agenda is as relevant as ever. Three essential areas of convergence were identified to help guide action: People, Planet and Prosperity. These three areas reflect the emerging outcomes of National Dialogues in 147 countries and Regional Dialogues in all parts of the world. The process has so far reflected an agreement that while local context, approaches and perspectives may differ, food systems can and must transform in order to achieve the Sustainable Development Goals (SDGs).
Through these National Food Systems Summit Dialogues, the process is also providing the opportunity for national governments and stakeholders to look at food as a system, to identify priorities and shape strategic pathways for the future of food, and to generate commitments from multiple stakeholders. As a result, a priority outcome of the Summit will be the development of National Pathways for Food Systems Transformation that are clear visions of what governments, together with different stakeholders, expect of food systems by 2030. National Pathways are an opportunity for Member States to articulate how they will seek to achieve the SDGs in their specific context as there is no one-size-fits-all approach. These pathways will take account of the multiplicity of sectors, interests, and all societal groups that are involved in, and influenced by, food systems, and it will take the work of all constituencies at all levels to deliver fair, inclusive and sustainable food systems.
The Summit is also seeing the development of Regional Pathways for Food Systems Transformation that speak to areas of common focus and priority across many countries and national pathways or can only be addressed through the joint effort of these countries across national borders.
At the same time, the Food Systems Summit process is mobilizing the global community in new ways to support Member States in their efforts to pursue systemic and transformative solutions to achieve the SDGs through food systems. Through the Summit process, more than 2,200 ideas for accelerated action have surfaced from experts and stakeholders, which have been clustered into a menu of 52 solution clusters for consideration by countries and other actors in response to their own particular context and priorities. These ideas emerged through the collective work of the Scientific Group, Action Tracks, Levers of Change, Global and Independent Food Systems Dialogues, Champions Network, and UN Task Force. As a result, there is a wealth of knowledge, expertise, resources (financial, human, technical, etc…) and capacity in the global community ready to connect with national and regional pathways in service of all People, our Planet and shared Prosperity.
Action Areas
In order to best leverage all of these ideas and the readiness for action at various levels, five action areas have emerged through the process as the primary areas to accelerate action in order to deliver on the 2030 Agenda through food systems. These action areas will help underpin the Secretary-General's Statement of Action and are an opportunity to strategically link new methods of support to country priorities.
These Action Areas will help to organize and direct the energy of the wealth of initiatives, resources, and commitments emerging from the Summit process towards SDG achievement:
Nourish All People

(This Action Area could help countries connect to coalitions, initiatives, and resources around i. Zero Hunger, ii. Healthy Diets from Sustainable Food Systems, iii. Universal School Meals, iv. Food Is Never Waste, v. The Food Coalition, vi. One Health, and beyond)
Boost Nature-Based Solutions of Production

(This Action Area could help countries connect to coalitions, initiatives, and resources around i. Agroecology and Regenerative Agriculture, ii. Blue & Aquatic Foods, iii. Sustainable Livestock, iv. AIMs for Climate, v. a Global Soil Hub, vi. Efforts to Stop and Reverse Biodiversity Loss, and beyond)
Advance Equitable Livelihoods, Decent Work, & Empowered Communities

(This Action Area could help countries connect to coalitions, initiatives, and resources around i. Decent Work and Living Incomes, ii. More and Better Jobs for Youth, iii. Making Food Systems Work for Women and Girls, iv. Indigenous Peoples Food Systems, and beyond)
Build Resilience to Vulnerabilities, Shocks, and Stresses

(This Action Area could help countries connect to coalitions, initiatives, and resources around i. Local Food Supply Chains, ii. Climate resilient development pathways, iii. The Humanitarian-Development-Peace (HDP) Nexus, iv. Safety nets, and beyond)
Support Means of Implementation

(This Action Area could help countries connect to coalitions, initiatives, and resources around i. Finance, ii. Governance, iii. Science and Knowledge (e.g. True Value of Food; Indigenous Food Systems), iv. Innovation, Technology, & Data, v. Capacity, v. Human Rights, and beyond)
| | | |
| --- | --- | --- |
| | Action Area | Priority SDGs |
| 1 | Nourish All People | SDG 1, 2, 3, 4, 5, 6, 8, 10, 12, 13, 14, 15, 17 |
| 2 | Boost Nature-Based Solutions of Production | SDG 2, 6, 7, 8, 9, 13, 14, 15, 17 |
| 3 | Advance Equitable Livelihoods, Decent Work, and Empowered Communities | SDG 1, 2, 5, 8, 9, 10, 11, 16, 17 |
| 4 | Build Resilience to Vulnerabilities, Shocks, and Stresses | SDG 1, 2, 3, 5, 9, 13, 14, 15, 16, 17 |
| 5 | Means of Implementation (Finance; Governance; Science and Knowledge; Innovation, Technology, & Data; Capacity; Human Rights) | All SDGs |
These five Action Areas together represent a systemic approach to the fulfillment of the SDGs through food systems and take into account the eight emerging themes from the Pre-Summit in July. They have been refined to account for strategic feedback received from the Summit's Advisory Committee, as well as many Member States and stakeholders. Across 193 Member States and all regions, there is significant space and need for all stakeholders to come together around the 2030 Agenda. This approach recognizes that our efforts must be responsive to country priorities, while facilitating systems impact at scale, including through multi-stakeholder initiatives, at local, national, and global levels. At the same time, when taken together, these Action Areas can demonstrate what systemic, integrated action, as envisioned in the 2030 Agenda, looks like. To be effective in national contexts, priority actions need to be anchored in the science, evidence, and knowledge that has emerged in the Summit process.
The Role of Action Areas
Action Areas serve a few purposes in continuing to advance the food systems agenda:
Networking local to global – They can serve as a conduit to stitch together local, national, and global, communities, countries, and constituencies around top priorities.
Fostering alignment and coherence – They can provide a mechanism for greater alignment and coherence of efforts, reducing fragmentation of effort and investment.
Catalyzing coordinated investment and collective action – They can catalyze coordinated investments on top priorities at country level and in regional and global public goods.
Mobilize resources – They can help to repurpose existing funds or galvanize new funds and partnerships to top priorities.
Mobilize energy and political will – They can draw and maintain attention to top priorities and mobilize the voice of various actors to generate the required political will and players at the table. 6. Transferring lessons, best practices, and capacities – They can facilitate the transfer of knowledge and capacities on top priorities to accelerate action and impact.
Action Areas enable the UN to surface and support country demand around delivery priorities UN Resident Coordinators (RCs) and UN Country Teams (UNCTs) will continue to work with countries around their national dialogues and national pathways for food systems transformation through the most appropriate structures at country-level. As gaps and needs are identified in these areas, the RCs and UNCTs will be able connect countries with a range of expertise, capacity, and resources in the UN system, multistakeholder initiatives and coalitions, or expert institutions.
Next Steps in Accelerating Action to the Summit
As we approach the Summit, all actors will therefore need to continue to deepen and accelerate their efforts for food systems transformation.
Member States

are encouraged to continue their dialogues and refinement of national pathways, as well as be clear on where they will join in common cause with other Member States and non-state actors in delivering on priorities in the 2030 Agenda at a regional and/or global level.

Member States and other constituency leaders

involved in multi-stakeholder coalitions and or initiatives are encouraged to continue strengthening (i) how their efforts build on country-level demand and existing country-level operational realities, (ii) how and where they will land in countries, (iii) how to achieve sustainable impact at scale in support of the 2030 Agenda, (iv) how to be inclusive, and (v) how to address capacity gaps.

All coalitions/initiatives emerging through the process

must look at how they include and elevate priority constituencies, particularly women, Indigenous Peoples, youth, and food producers and food workers. These groups should be included and accounted for in all actions, and special measures should be taken to address systemic challenges that face these particular constituencies, particularly through a human rights-based approach.
The Summit process has given rise to several multi-stakeholder coalitions/initiatives that actors will be ready to commit to by the time of the Summit in order to align behind delivering on national pathways, and it will be a priority to register and recognize as many of these as possible through the Summit moment on 23 September. The Summit is therefore in the process of developing an online commitment register in the foodsystems.community heading into and during the Summit, where all actors will be able to register their collective or individual commitments to action, particularly in alignment with any of the components of the Summit's action areas.
At the same time, the Summit is not an endpoint, but rather an early milestone in accelerating focused action on food systems throughout the Decade of Action. Other more nascent efforts will therefore continue to be refined over the months and years ahead and can be added into this agenda as priorities in the future.
For this reason, the Compendium will be an outcome at the knowledge base of the Summit, which will seek to document the full diverse range of inputs received throughout the process. This will ensure that no good ideas anchored in evidence are lost or discarded, but are noted for continued work and can be drawn on over time.
The Special Envoy and Secretariat will continue to welcome feedback to refine and strengthen this approach, even as it provides a framework for all Member States and actors to best use the final weeks leading up to the Summit to accelerate their commitments to action.
With only 9 years left to achieve the SDGs, we must maintain and build on the energy created by the Food Systems Summit. It must be consolidated and used as fuel for further progress, as we collectively leverage the power of food systems to recover from COVID-19 and get back on track to achieve the 2030 Agenda.