Business Declaration for Food Systems Transformation
The Private Sector Guiding Group (PSGG) was convened to represent the private sector at the 2021 UN Food Systems Summit by Peter Bakker, President and CEO of WBCSD and Member of the Advisory Committee to the UN Food Systems Summit (FSS) 2021 Secretariat.
The PSGG is one of several constituency groups of the UN FSS and includes numerous diverse business platforms working to mobilize business ambition and action in support of the FSS.
The PSGG has led the development of The Business Declaration on Food Systems Transformation, presenting the private sector ambition to scale investments, enhance collaborations and ensure than business is part of the solution during this decade of action.
The Business Declaration will become an official annex to the UN Secretary-General's Statement of Action along with commitments from other constituencies.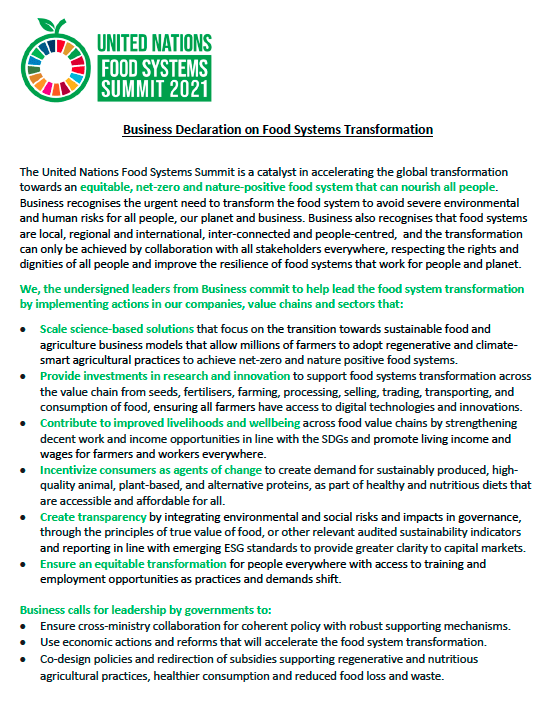 Below is the list of signatories who have endorsed the Business Declaration. Individuals endorsing this document have signed on personal title only.
Kees Aarts CEO of PROTIX / Mahmud Abdul Cader, Managing Director of Pulses Splitting and Processing Industry / Farhan Adam, CEO of Marina Commodities INC / Vanessa Adams, VP Strategic Partnerships of the Alliance for a Green Revolution in Africa / Kunichiro Amakasu, President of Amakasu Trading LTD / Noel Anderson, Managing Partner of Mosaic Food Advisors / Hüseyin Arslan, Chairman of Arbel Group / Cherrie Atilano, Founding Farmer and CEO of AGREA Agricultural Systems International Inc. / Arthur Santosh Attavar, Chairman & Managing Director of the Indo-American Hybrid Seeds India Pvt. Ltd. / Claudia Azevedo, Board Member & Chief Executive Officer of Sonae / Michiel Bakker, Vice President of Google / Peter Bakker, CEO of the World Business Council for Sustainable Development (WBCSD) / Gregory Belt, Founder & CEO of EverGrain Ingredients / Soo Khiang Bey, Chairman of APRIL / Saurabh Bhartia, Senior Trader of Viterra India Private Limited / Thierry Blandinieres, CEO of INVIVO / Gabriela Boff, Brand & Communication Director of Sodexo / Cem Bogusoglu, Director of Swiss Aegean Trading GmbH / Mary Boote, CEO of the Global Farmer Network / Jan Braet, Braet-De Vos NV / Barbara Bray, Founder of Alo Solutions / Gabriela Burian, Senior Director Multi-Stakeholders Platform of Bayer / Sharran Burrow, General Secretary of the International Trade Union Confederation (ITUC) / Steve Cahillane, Chairman and Chief Executive Officer of Kellogg Company / Giuseppe Calcagni, Director of the International Nut Council Spain / Wai-Chan Chan, Managing Director of The Consumers Goods Forum / Sanjay Chhabra, President & Business Head-SFS of DCM Shriram Limited / Danny Chua, Group Sustainability Team Lead of Mewah Group / Mateusz Ciasnocha, CEO of the European Carbon Farmers / Margot Clifford Laguette, Public Affairs Analyst of the International Fertilizer Association / Donald Coles, Managing Director of Valley Seeds Pty Ltd / James Collins, CEO of Corteva / Liam Condon, Member of the Board of Management and President of the Crop Science Division at Bayer AG / Pilar Cruz, Chief Strategy Officer of Cargill / Giulia Di Tommaso, President and CEO of CropLife International / Rein Dietrich, Global Technical Product Management & Food Fortification of BASF SE / Wiebe Draijer, CEO of Rabobank / Sanjiv Dubey, Director of GrainTrend Pty Ltd / Sara Eckhouse, Executive Director of FoodShot Global / Emmanuel Faber, Chairman of One Planet Business for Biodiversity / Hanneke Faber, President Global Food & Refreshments of Unilever / Artur Falcette, CEO of Sapé Agro / Jeanette Fielding, Chief Corporate Affairs and Communication Officer of Upfield / Horacio Fragola, Manager of Alicampo SRL / Erik Fyrwald, CEO of Syngenta Group / Albert Garcia, President of ALONS-GAR S.L. / Michael Gelchie, CEO, Louis Dreyfus Company / Pascal Gerrard, Director of StreetCube / Dr Peter Gichuku, CEO of Hydroponics Africa ltd / Rajendren Gnanasambanthan, Director of Gnanam Imports Private Limited / Nadir Godrej, Managing Director of Godrej Industries / Rob Groot, Director of Partnerships of IFDC / Mindy Grossman, President and CEO of WW International / Himanshu Gupta, founder and CEO of ClimateAi / Piyush Gupta, Group CEO of DBS Bank / Nasrin Haidari, Manager at Cefe Group / Julia Harnal, Vice President Sustainability & Government Affairs Agricultural Solutions of BASF / Antonella Harrison, Strategic Advisor & Business Consultant at Astrategia Limited / Yvonne Harz-Pitre, Director of Public Affairs of the International Fertilizer Association / Emily Heneghan Kason, Global Co-Coordinator of the SUN Business Network / Dan Holben, Managing Director of A. Poortman (London) Ltd / Diane Holdorf, Managing Director at the World Business Council for Sustainable Development (WBCSD) / Svein Tore Holsether, President and Chief Executive Officer of Yara International / Albin Hubscher, President and CEO of the International Fertilizer Development Centre (IFDC) / Benjamin Ibhazukor, Assistant Superintendent of Quarantine Nigeria Agricultural Quarantine Service / Nnaemeka Ikegwuonu, CEO of ColdHubs Ltd / Vijay Iyengar, Chairman & MD of Agrocorp International Pte Ltd / Michael Joos, CEO of Vestergaard / Tomomi Kanamori of NJPPP / Ankit Kedia, Chairman of Mahabir Overseas Pvt Ltd /Michael Keller, Secretary General of the International Seed Federation /Nina Khangaldyan, International Issues Adviser of Uralchem / Alzbeta Klein, CEO & Director General of International Fertilizer Association / Rachel Kolbe Semhoun, Head of Sustainabiliy of Invivo / Andac Kolukisa, Managing Director of Natural Gida San.Ve Tic.A.S. / Dmitry Kony, Chairman of the Board of Directors of Uralchem / Bernhard Kott, Chief Sustainability Officer of Symrise AG / Klaus Kraemer, Managing Director of Sight and Life Foundation / Ramon Laguarta, Chairman & CEO of PepsiCo / Petra Laux, Acting Chief Sustainability Officer of Syngenta Group / Stéphane Layani, Chairman of WUWM / Jose Maria Lazara, CEO of Jose Maria Lazara S.A / Guilherme Leal, Co chair & Founder of Natura&Co / Rebecca Lee, Chair of the International Federation of Produce Standards & Executive Director of the Canadian Horticultural Council / Tony Leech, CEO Government of Sodexo / Rich Lesser, CEO of Boston Consulting Group /Marcelo Luders, Director of CORREPAR FOOD BROKERS / Denis Machuel, CEO of Sodexo / Dave MacLennan, Board Chair and CEO of Cargill / Prity Malde Kara, Executive Committee Member of the Global Pulse Confederation / Douglas Mallette, Founder and CEO of Cybernated Farm Systems / Geraldine Matchett, Co-CEO & Member of the Managing Board of Royal DSM / Nicoló Mascheroni Stianti, CSO of Abaco group / Hans Maurer, Director Strategy & Development of The AgriChain Centre Ltd / Bob Mccan, President of the Global Roundtable for Sustainable Beef / Sarosh Mistry, Chair of Sodexo North America / Tala Mobayen, Director of the Victoria Pulse Trading Corp. / Nur Mohamed Abdi, Founder and Manager of the Youth Agro-Marine Development Association /Lucy Muchoki, CEO of the Pan African Agribusiness Consortium / Frans Muller, CEO of Ahold Delhaize / Motlasi Musi of the Global Farmer Network / Monica Musonda, CEO of Java Foods / Willem Mutsaerts, CPO of Givaudan / Rose Mutuku, Managing Director of Smart Logistics Solution Ltd /Sunil Nayak, CEO Corporate Services Worldwide of Sodexo / Takaaki Nishii, Director President & CEO of AJINOMOTO CO. INC. / Amy Novogratz, Co-founder & Managing Partner of Aqua-Spark / Tip O'Neill, President of International Raw Materials Ltd / Tsuyoshi Stuart Oda, Founder & CEO of Alesca Life Technologies / Josephine Okot, Founder and Managing Director of Victoria Seeds Ltd / Olawole Olagbaju, Managing Director & CEO of Real People Concept / Jehiel Oliver, CEO of Hello Tractor / Peter Oosterveer, CEO of Arcadis / Nana Osei-Bonsu, CEO of the Private Enterprise Federation Ghana / Maria Outters, SVP Sustainability of Sodexo / Rob Painter, CEO of Trimble / Samir Pandit, CEO & Director of DPOLL – DIGITAL POLLINATION / Sunil Patwari, Director of Seasons Overseas Pte Ltd / Pablo Perversi, Chief Innovation Quality and Sustainability officer & Global Head of Gourmet. of Barry Callebaut. / Michel Picandet, Executive Vice-President & Head of Food of TOMRA / Paul Polman, Co-Chair & Co-Founder of IMAGINE / Sergio Raffaeli, President of Wenstrade SA / Murari Rakshit, Director & CEO of Nutrisource Pte Ltd / Benson Ririmpoi, Managing Director of Paves Vetagro Limited / David Rosenberg, Co-Founder and Chief Executive Officer of AeroFarms / Berangere Ruchat, Chief Sustainability Officer of Firmenich / Sophie Ryan, CEO of Global Salmon Initiative / Antonio Samaritani, CEO of Abaco Group / Mary Ann Sayoc, Public Affairs Lead of East West Seed / Stefan Scheiber, Chief Executive Officer of Bühler AG / Véronique Schmitt, Head of Communications EMEA of Bayer CropScience / Mark Schneider, CEO of Nestle S.A. / Ritta Shine, Global Co-Coordinator of the SUN Business Network / Jai Shroff, CEO of UPL / Marcelo Soto Acebal, Commercial manager of Desdelsur S.A. / Caroline Suy, General Manager of Casibeans BV / Hunter Swisher, CEO of Phospholutions Inc. / Mostafa Terrab, Chairman & Chief Executive Officier of OCP Group /Philip Teverow, Co-founder & CEO of Yolélé Foods & West African Ancient Grains / Sudhakar Tomar, President of India Middle East Agro Trade Industry & Investment Forum / Didier Toubia, Co-Founder and CEO of Aleph Farms / Ponsi Trivisvavet, CEO of Inari Agriculture / Anurag Tulshan, Director of Esarco Exim Pvt Ltd / Marco van Leeuwen, Managing Director of Rijk Zwaan / Sunny Verghese, Co-Founder & Group CEO of Olam International Limited / Dirk Voeste, Senior Vice President Regulatory Sustainability & Public Affairs Agricultural Solutions of BASF SE / Tony Will, President & Chief Executive Officer of CF Industries / Peter Wilson, Director of Wilson International Trade / Simon Winter, Executive Director of Syngenta Foundation for Sustainable Agriculture / Ryuji Yamaguchi, Deputy Director of the Japan Food Industry Association / Tewodros Yilma, Managing Director of Alpha Trading Partners PLC / Eva Zabey, Executive Director of Business for Nature / Zabihullah Ziarmal, CEO of CEFE INTERNATIONAL DMCC / Douwe Zijp, CEO of East-West Seed / Marc Zornes, CEO of Winnow