NEW EXTENDED DEADLINE: Call to Exhibit at UN Food Systems Summit +2 Stocktaking Moment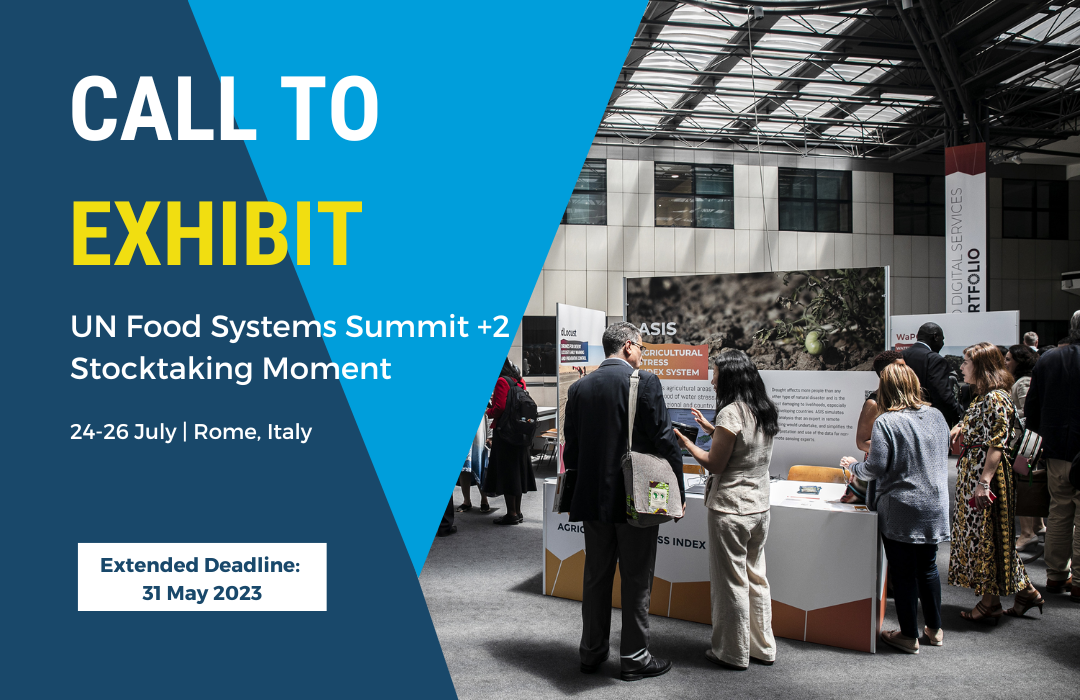 The UN Food Systems Coordination Hub is pleased to invite applications for exhibition booths at FAO's Headquarters in Rome over the three days of the UN Food Systems Summit +2 Stocktaking Moment (UNFSS+2), 24-26 July 2023. Applications are due no later than 31 May 2023.
Access the Exhibition Booth Application Form here.
Information and Guidelines
Exhibition booths will be placed on the ground floor of FAO, in the atrium of the grounds, for the entirety of the UNFSS+2. This large, open space is where FAO staff and guests convene, network and walk through. As a space that people naturally gravitate towards, it can attract attention, provide visibility and raise awareness to the National Convenors, public officials, UN agencies and other food system actors attending the UNFSS+2. The exhibition booths selected for this space will have the unique opportunity of capturing the diverse audience's attention and help create a dynamic background for event coverage.
Exhibitors are expected to be on-site either Saturday or Sunday to prepare their table ready for Monday's opening events. The set-up would remain for all three days of the UNFSS+2. Exhibition booths must always be staffed by at least one organization representative during the event hours (Agenda, TBC), two event access badges to selected applicants.
Selected applicants are responsible for their own travel and accommodation costs. There will also be a fee of 1,500 USD, covering all technical aspects of the exhibition booth (i.e., furniture, digital signage, branded table and backdrop). The design of each exhibition booth is to be done collaboratively with UNFSS+2 planning teams. Priority will be given to applications submitted by FSS Coalitions and relevant actors of the FSS Ecosystem of Support.