World Food Forum 2022: Science, Innovation & Investments for Food Systems Transformations
Stefanos Fotiou, Director of the UN Food Systems Coordination Hub, shares his personal reflections on the Hub's plenary session at the World Food Forum 2022.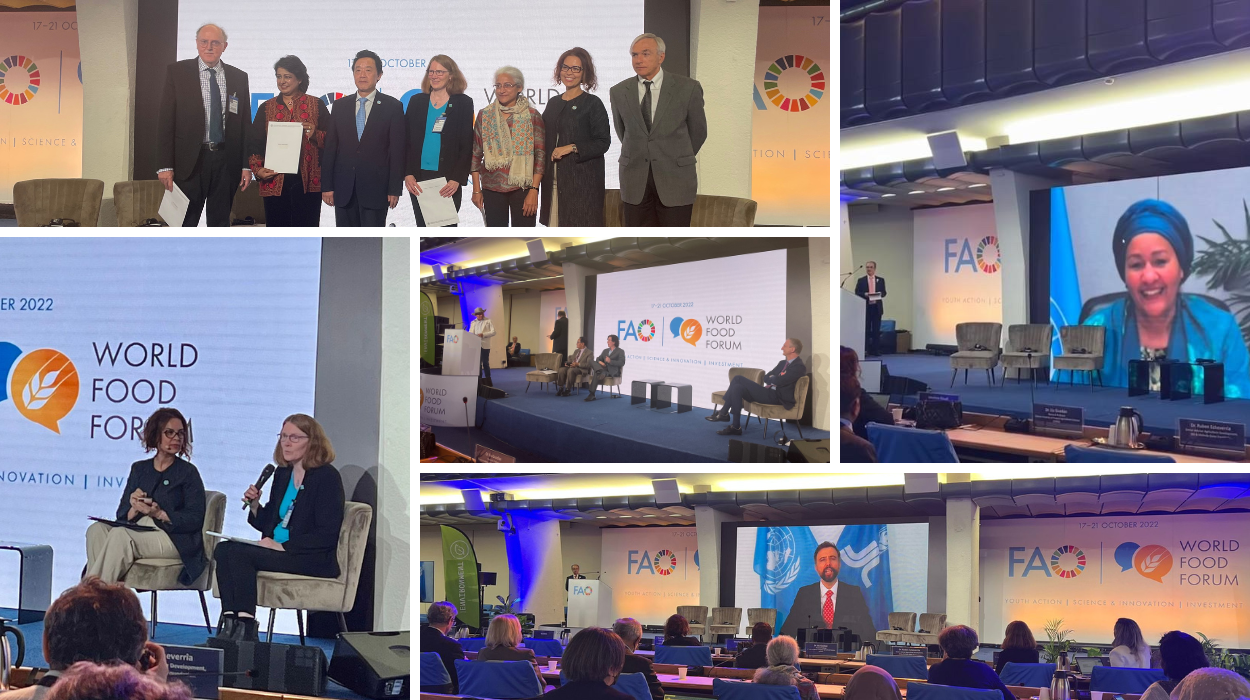 It was an unforgettable experience taking part in the recent World Food Forum 2022, hosted at the headquarters of the Food and Agriculture Organization of the United Nations (FAO) in Rome, Italy.
More than 2,000 people joined in person, along with tens of thousands tuning in virtually from around the world, to discuss actionable solutions for improving how our food is produced, delivered, and consumed.
The event featured global leaders and stakeholders in agrifood systems – including representatives of the Rome-based UN agencies, youth, small-scale producers, Indigenous Peoples, policymakers, agri-investors, and scientists – all coming together to address the world's growing food crisis.
Amid passionate discussions surrounding the current challenges and opportunities facing global food security, one message rang clear: there is an urgent need for change.
As a result, the central theme of this five-day event focused on empowering inter-generational dialogues and exchanging expertise in science, technology, and innovation to drive rapid and transformative solutions. Particular emphasis was placed on the critical role young people play in leading and supporting these efforts.
Food System Transformations for SDGs Acceleration
The UN Food Systems Coordination Hub ("the Hub") had the great privilege of organizing a plenary session on "Science, Innovation & Investments for Transformative Food Systems Pathways" within the Forum.
Our session focused on the transformative potential of specific science-based interventions, innovations, and investment approaches to support countries in implementing their national pathways and accelerating the overall achievement of the Sustainable Development Goals (SDGs).
Within the session, agrifood systems leaders provided evidence and insights on how science, innovation, and investments can generate multiple benefits for agrifood systems transformations. We were also delighted to launch the Hub's new Scientific Advisory Group and introduce the Youth and Indigenous Peoples representatives of our Stakeholder Engagement and Networking Advisory (SENA) Group – a truly exciting milestone for the Hub since our inception earlier this year.
Setting the scene
We kicked off the session with remarks from the United Nations Deputy Secretary-General, Amina J. Mohammed who recalled the governments' commitment to transforming their food systems at the 2021 UN Food Systems Summit, noting the catalytic effect such a transformation would have on achieving all the SDGs. Welcoming the efforts of the Hub to innovate, drive solutions, and closely engage young people and other stakeholders, she emphasized the value of the Hub´s support for access to finance and investments, technical aid, and capacity development, as well as the establishment of benchmarks to measure progress for each country.
Following this, FAO Director-General, QU Dongyu, described recent internal institutional changes culminating in the new FAO Office of the SDGs – exemplifying FAO´s deep commitment to the 2030 Agenda. Calling for greater global solidarity, he urged all delegates to focus on holistic actions based on science to transform agrifood systems.
In a video message, the President of the International Fund for Agricultural Development (IFAD), Alvaro Lario, underscored the urgency to transform food systems in times of crisis. Inviting leaders to innovate systemically, he urged the end of "unhealthy financing," which disregards externalities and the actual cost of unsustainable food systems.
After the keynote remarks, two thought-provoking impact panels highlighted the importance of investments, science, and innovation as leverages for food system transformations.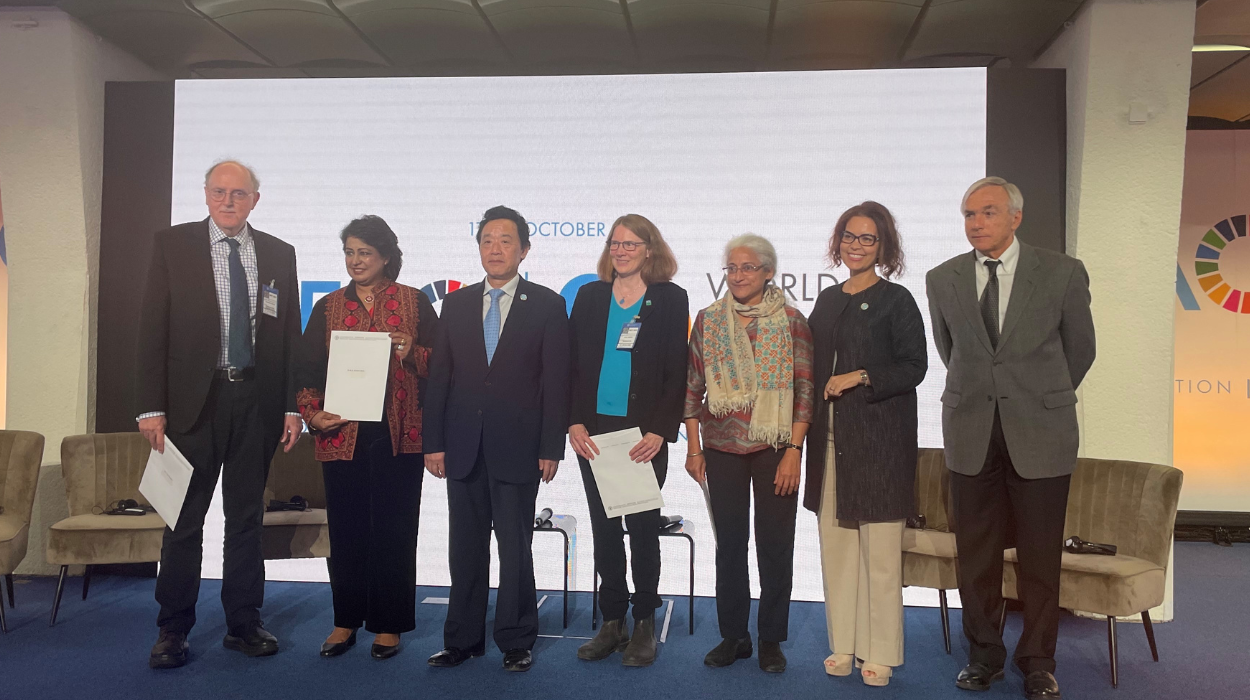 FAO Director-General QU Dongyu hands appointment letters to selected scientists to officially launch the Scientific Advisory Group of the UN Food Systems Coordination Hub.
Investing in food systems transformations
FAO Chief Economist, Maximo Torero, moderated the first impact panel, "Investing in food systems transformations." Panel members included Dil Bahadur Gurung, Member of the National Planning Commission in Nepal, Stefano Gatti, Special Envoy for Food Security in Italy, Nicolás Andrés Domke Venegas, Youth representative for the Hub's Stakeholder Engagement and Networking Advisory (SENA) Group, and Dario Mejia Montalvo, Indigenous Peoples representative for the SENA Group.
Dil Bahadur Gurung shared Nepal's strategy for transforming its food systems, including sub-national and national efforts developed in its national pathway that are leading to innovative budgetary arrangements. Stefano Gatti noted the urgency to increase agricultural productivity in a sustainable way, stressing the need to protect water resources, soil health and access to fertilizers, while suggesting that international financial institutions focus on capacity building and blended finance to ensure that private and public capital match.
From a SENA Group perspective, Nicolás Andrés Domke Venegas delivered remarks on behalf of the Hub's Youth representatives – together with Lucrezia Ducci and Elizabeth Mwende Mwenda – noting their priorities on better education, more science and technology to advance food systems transformation worldwide. Dario Mejia Montalvo, Indigenous Peoples representative – together with Tove Søvndahl Gant and Geoffrey Roth – recalled the wisdom of Indigenous Peoples, noting the inexistence of hunger and well-established notions of justice in traditional communities.
It was a truly inspiring experience to hear from all panel members, and particularly impactful for me to hear for the first time from our new SENA Group representatives.
As many in my network know, I am a strong advocate for the power of youth-led solutions for accelerating the SDGs. Today, there are 1.8 billion people between the ages of 10-24— the largest generation of youth in history – with close to 90 per cent of them living in developing countries. They possess the creativity and the ambition to positively influence the future sustainability of our food systems but require more opportunities and high-level support to drive their ideas forward.
Similarly, Indigenous Peoples play a critical and irreplaceable role in making our agrifood systems more efficient, resilient and sustainable. They are the recognized custodians of 80 percent of the world's remaining biodiversity and possess deep traditional knowledge that can empower these efforts.
We look forward to working together with our SENA Group to ensure their valuable perspectives are sought out and reflected in national, regional and global policy-making around agrifood systems transformations.

The power of science in transforming food systems
FAO Chief Scientist, ismahane elouafi, moderated the second impact panel titled "The power of science on transforming food systems" and welcomed 33 eminent scientists joining the Scientific Advisory Group of the Hub. Panel members included Prof. Joachim von Braun, President of the Pontifical Academy of Sciences of the Vatican and a member of the Executive Board of the Crop Trust, Jennifer Clapp, Research Chair in Global Food Security and Sustainability in the School of Environment, Resources and Sustainability at the University of Waterloo, and Ruben G. Echeverriaía, Senior Advisor Agriculture Development at the Bill & Melinda Gates Foundation.
Joachim von Braum reinforced the need to use more science to understand complex interactions in food systems with a greater focus on the theme of risks, noting the need to have solutions adapted to local circumstances.
Jennifer Clapp laid out critical principles for legitimate science-policy interfaces, noting the need to value consultation, participatory methods, diverse worldviews, and a sense of independence.
Ruben Echeverría urged for more innovation to effectively connect the dots between national and global actions for agrifood systems transformations while calling for more attention on enhancing national investment plans in the Global South.
It was a real privilege to hear from these distinguished scientists on how we can work to address systemic challenges in agrifood systems transformation through a diverse range of science-based solutions. Moving forward, the Scientific Advisory Group will act as a broker of science and evidence for the Hub, bringing invaluable perspectives from all fields of science to ensure the country-level solutions are holistic, evidence-based, and sustainable for people and the planet.
Final thoughts
I would like to express my sincere gratitude to all who tuned in and participated in this session, along with the organizers of the 2022 World Food Forum, for such a positive and constructive experience. I walked away with a great deal of inspiration and lessons learned, and look forward to working together with the Hub team of FAO, World Food Programme, World Health Organization, International Fund for Agricultural Development (IFAD), United Nations DCO, and UN Environment Programme colleagues, and our partners to translate these insights into actionable steps for sustainable #foodsystems transformations as #SDGs accelerators.