IFAD Food 4 Thought Event: How to bring systematic change to food systems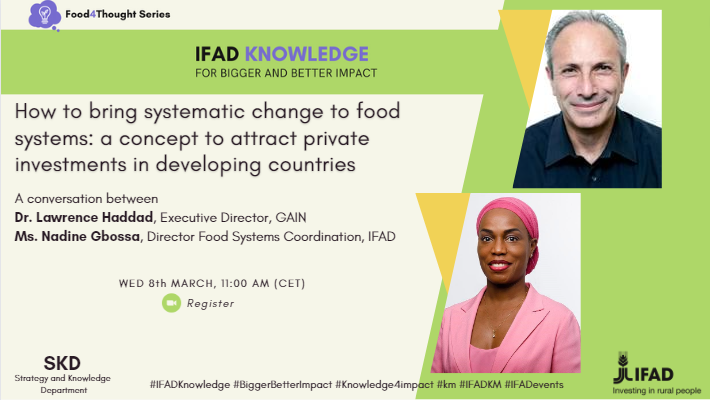 This Food 4 Thought event was hosted by IFAD and featured a conversation with Dr. Lawrence Haddad, GAIN's Executive Director, and Ms Nadine Gbossa, Director for Food Systems Coordination in IFAD, on how to bring systematic change to food systems. The discussion was introduced by Dr. Jyotsna Puri, Associate Vice-President of Strategy and Knowledge Department at IFAD and moderated by Lenyara Fundukova, Senior Knowledge Management Specialist at IFAD. During the event, actors and related mechanisms that can attract private sector investment in developing countries to generate a positive food systems transformation, were explored and discussed.
View the full event recording.
About the Speakers
Dr Lawrence Haddad is GAIN's Executive Director since 2016. From September 2020 and up to the United Nations Food Systems Summit that took place on 23 September 2021, Lawrence chaired Action Track 1: Ensuring Access to Safe and Nutritious Food for All. Lawrence is also the co-convener of the Standing Together for Nutrition. Prior to GAIN, Lawrence was lead author of the Global Nutrition Report, Director of the Institute of Development Studies (IDS), and Director of the Food Consumption and Nutrition Division at IFPRI. He is the winner of the 2018 World Food Prize together with David Nabarro. Click here for more.
Ms Nadine Gbossa is a senior development professional with over 20 years' experience dedicated to sustainable development. In October 2021, Gbossa was appointed as IFAD's Director for the Food Systems Summit follow up. She is also the Chief of Means of Implementation with the UN Food Systems Coordination Hub. As a Country Director and Regional Head for IFAD, Gbossa worked in several African countries with vulnerable communities, governments, development partners and the private sector for inclusive growth. With IFAD in Nigeria, Gbossa managed the largest country programme in the region and she was later appointed as Director for the West and Central Africa region.