National Convenors discuss solutions for sustainable food systems at One Planet Network Conference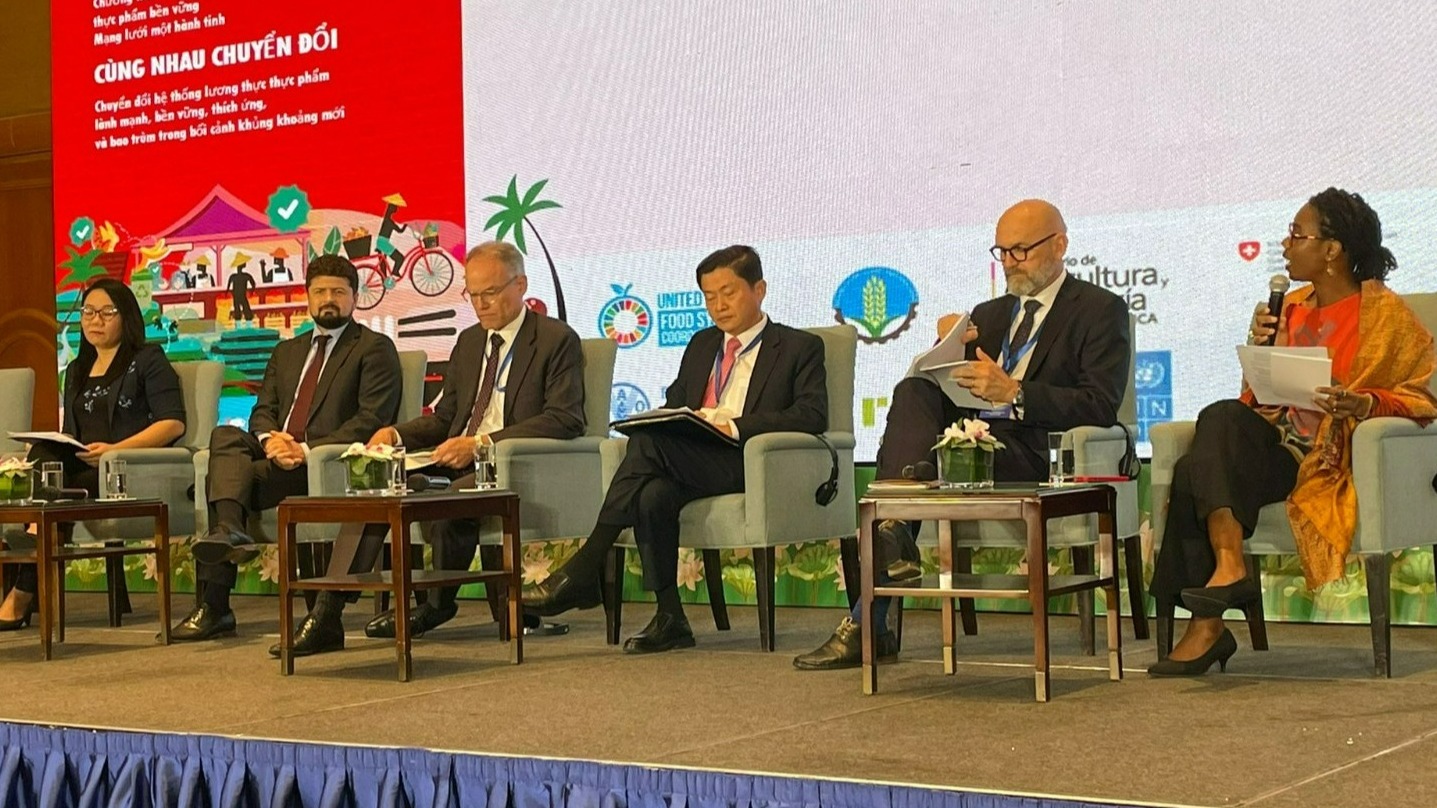 Left to right: Truong Tuyet Mai, National Convenor of Viet Nam; Kristofer Hamel, Head of Climate Impact Response, Office of the Special Envoy for Climate Change (COP28); Martin Hoppe, Head of the German Federal Ministry for Economic Cooperation and Development; Sok Silo, National Convenor of Cambodia; Alwin Kopse, National Convenor of Switzerland; and Sylvia Lopez-Ekra, Deputy Director of the UN Food Systems Coordination Hub.
On April 27, 2023, the UN Food Systems Coordination Hub organized a dialogue with the Food and Agriculture Organization of the United Nations (FAO) and the Swiss Federal Office of Agriculture (FOAG). The session titled "Dialogue of National Convenors" was part of the One Planet Network's Sustainable Food Systems Programme 4th Global Conference, which took place in Hanoi from April 24-27, 2023.
The objective of the session was to bring together National Food Systems Convenors from every region worldwide to discuss their national food systems' transformation pathways, institutional architecture set-ups, and integration with other policy sectors, including commitments and strategies for resource transformation endeavors.
The National Convenors highlighted their key takeaways from the conference and discussed the following steps to support their national pathways. Additionally, the dialogues focused on the upcoming UN Food Systems Summit +2 Stocktaking Moment, scheduled for July 24-26 at FAO Headquarters in Rome.
The "Dialogue of National Convenors" session was an excellent opportunity for participants to discuss ways to promote sustainable food systems worldwide and to take stock of the progress made in implementing the national pathways.
The full summary of the session can be accessed here.