Transforming food systems in Nepal: A focus on localization
We turn our attention to Nepal's collaborative journey in localizing its national food systems transformation pathway across five municipalities, leveraging the Hub's support.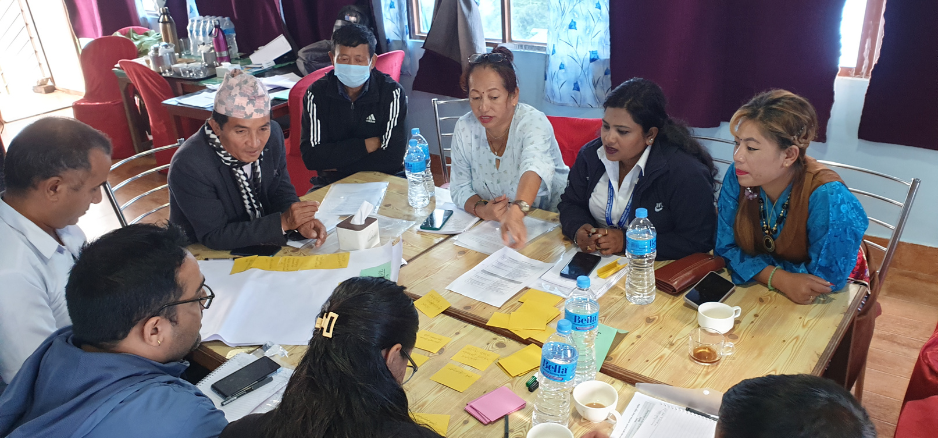 In the wake of the 2021 UN Food Systems Summit, countries across the globe have committed to pursuing a shared vision of sustainable, equitable, healthy, and resilient food systems. This vision found its concrete expression in the development of national food systems transformation pathways, reflecting overarching policy priorities at the national level. As part of a broader effort to support these transformations, the UN Food Systems Coordination Hub analyzed priority needs expressed by countries and allocated funds to a selection of countries to catalyze the implementation of their national pathways. As we highlight the results that these countries have achieved with the funds, we turn our attention to Nepal.
Nepal's commitment to food sovereignty: A constitutional right
Nepal's Constitution affirms the fundamental right to food and food sovereignty for its citizens. To operationalize this commitment, Nepal's Parliament enacted the Right to Food and Food Sovereignty Act in 2018, introducing policy measures to strengthen food governance, enhance accountability, and facilitate the transformation of food systems in line with the 2030 Agenda. In this context, the National Planning Commission (NPC) of Nepal developed its Food Systems Transformation Strategic Plan (2022-2030), which seeks to harmonize their national food systems pathway with government policies, with a particular emphasis on the localization of food systems. In November 2022, Nepal successfully secured a modest grant from the UN Food Systems Coordination Hub, lending vital support to these efforts.
Coordinated action: Nepal's three-tiered approach
To put this strategy into action, Nepal launched a coordinated, three-tiered approach involving the federal government, provincial authorities, and local governments. The federal government took on a leadership role in guiding policy provisions and planning. Provincial governments aligned strategic actions with their local plans while providing essential support to local governments in the implementation of these strategies. Local governments were entrusted with the adoption and execution of actions aimed at transforming food systems in their respective regions.
To facilitate this, the NPC established a Food Systems Steering Committee, comprising representatives from relevant government ministries and departments, local governments, development partners, the private sector, and civil society organizations. It serves as the institutional mechanism to mobilize multi-sectoral and multi-stakeholder efforts and facilitate the implementation of the national pathway. At the forefront of these collaborative efforts was Dr. Jay Kant Raut, the National Convenor of Nepal and a member of the National Planning Commission.
Dr. Raut expressed his enthusiasm for the initiative, stating that "a methodical and sustainable strategy for food and nutrition security has enabled Nepal to change its agrifood systems, marking a significant milestone in the process."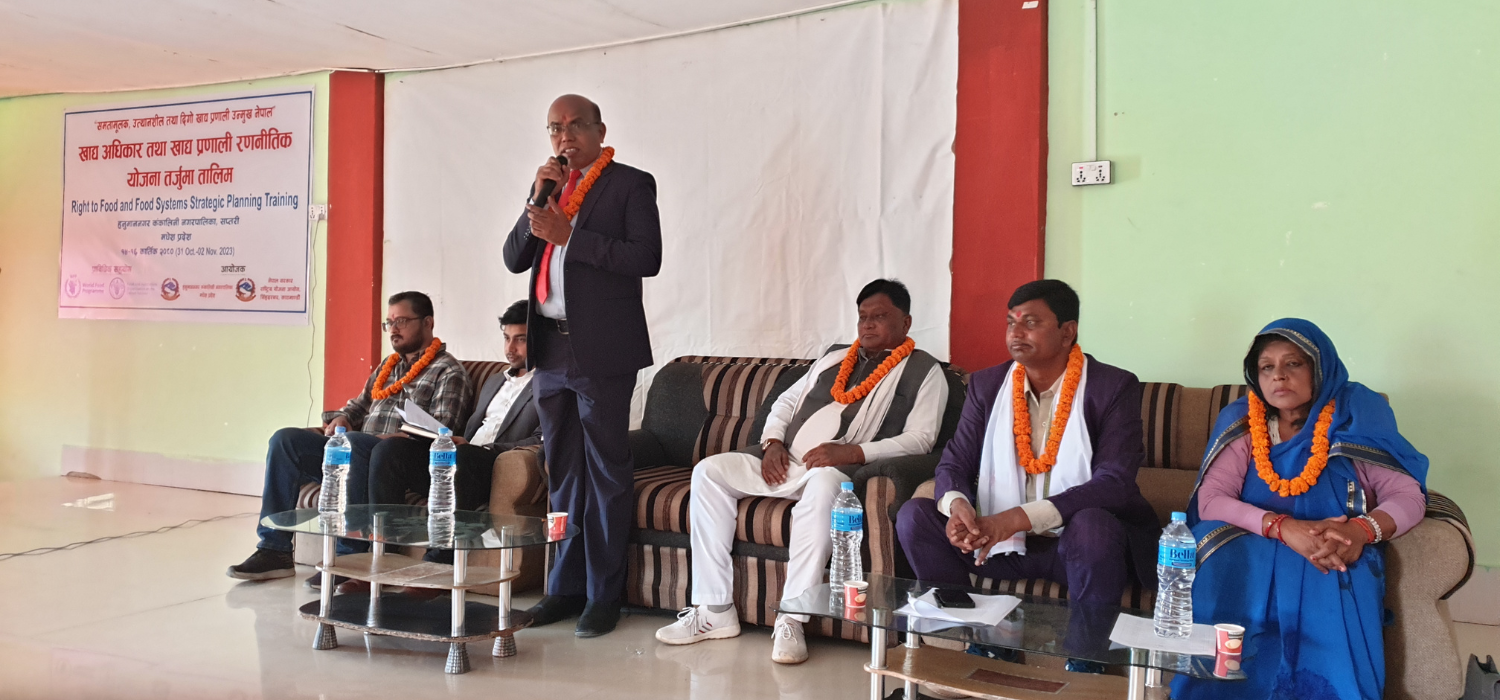 Dr. Jay Kant Raut delivering opening remarks.
Evaluating progress
Less than a year after receiving the funds, Nepal has achieved significant milestones:
1. Seven municipalities were identified to pilot the localization of the Food Systems Transformation Strategic Plan. This selection was a result of close collaboration between the NPC and provincial ministries responsible for agriculture. The Food Systems Steering Committee endorsed the list of selected municipalities.
2. Comprehensive training materials, including curriculum and resource materials, were created for these municipalities to facilitate the Right to Food and Food Systems Strategic Planning training as part of the pilot process. This training manual is intended to enhance the capacity of local government stakeholders and guide the planning and implementation of food systems transformation actions.
3. Training sessions were organized in five municipalities (as of 02 November 2023) to develop the Right to Food and Food Systems Strategic Plan, with two more municipalities set to follow suit. Task Forces were formed in the five municipalities that received training to collect available evidence and draft the Right to Food and Strategic Plan in consultation with NPC, WFP, FAO, and other stakeholders.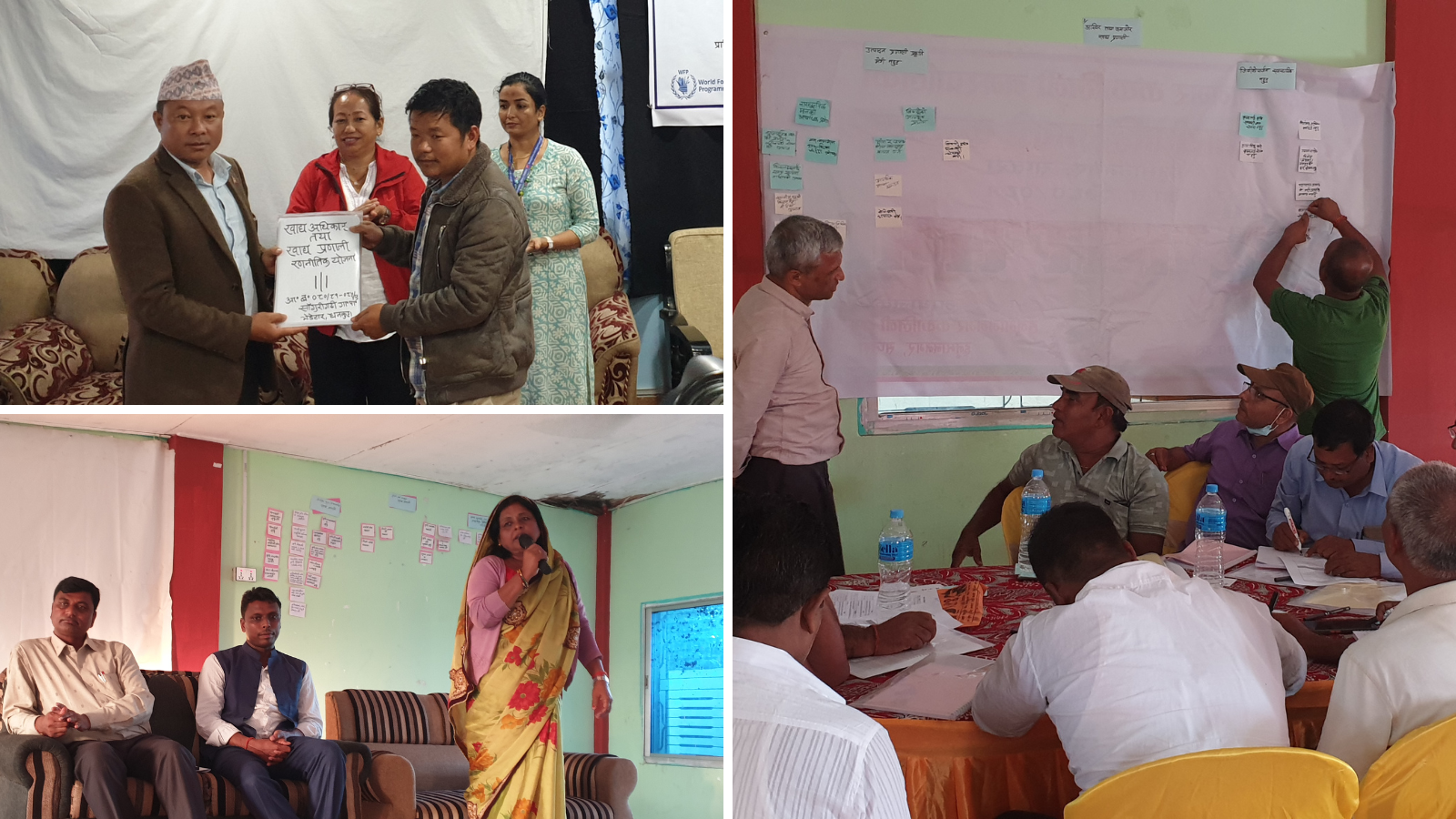 Training sessions and workshops in the selected municipalities.
Enhancing impact: The Hub's contribution
The funds allocated by the Hub served as a catalytic instrument in accelerating food systems transformation in Nepal through the localization of its national pathway. To bolster the impact of this initiative, the Hub also offered advisory support and facilitated connections with the Ecosystem of Support.
Additional support
FAO and WFP contributed additional funds to complement the Hub's contribution, extending their support for piloting food systems localization in the municipalities. Local governments pledged to facilitate additional meetings and interactions to complete the formulation of Right to Food and Food Systems Strategic Plans in certain provinces. Other development partners have also shown a keen interest in actively participating in this inititiative, with an eye towards potential expansion.
Through collaborative efforts at all levels of government and active stakeholder engagement, Nepal is taking significant strides towards realizing a sustainable, equitable, healthy, and resilient food system, serving as an exemplary model of progress for countries.