Transforming food systems through science and innovation: The role of the Scientific Advisory Committee
In its inaugural meeting, the UN Food Systems Coordination Hub's Scientific Advisory Committee discusses science-driven solutions for transforming food systems.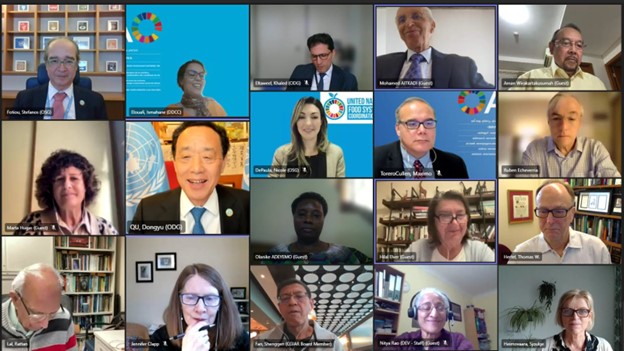 In February 2023, the UN Food Systems Coordination Hub held an inaugural meeting with its new Scientific Advisory Committee (SAC) to discuss its role in accelerating evidence-based decision-making for food systems transformation.

The SAC is a broker of science and evidence, composed of eminent scientists. It brings forth its combined expertise to guide and support countries in implementing their national food systems transformation pathways through evidence-based policymaking.
Joining forces for a better future: How scientific networks can drive positive change in food systems

The meeting kicked off with a keynote speech from the Director-General of FAO, Dr. Qu Dongyu, who emphasized the importance of science and innovation to scale local, regional, and global solutions for food systems transformation. He noted that establishing the SAC is a significant milestone for the 2021 UN Food Systems Summit follow-up. He commended its work for leveraging insights and expertise from various scientific domains. During the inaugural meeting, Director-General Qu Dongyu stated that "the establishment of the Scientific Advisory Committee is a major milestone in emphasizing that science and Innovation can play a crucial role in accelerating transformations for healthier, more sustainable, and resilient agrifood systems."

Participants then heard an introductory presentation from Stefanos Fotiou, Director of the FAO Office of SDGs and the UN Food Systems Coordination Hub, who emphasized that countries want practical guidance on how to operationalize the food systems approach, to break down silos between sectors, to engage in peer-learning and to gain better access to scientific data and tools.
Overcoming obstacles and maximizing potential: Insights from the SAC
During a roundtable discussion moderated by Ismahane Elouafi, Chief Scientist of FAO, SAC members reflected on the achievements of the Food Systems Summit Scientific Group, exploring the best way forward. Ms. Elouafi also emphasized the SAC's role as a dynamic and adaptable body. She said the SAC should be "flexible to provide timely support to countries in developing their national pathways". She noted the importance of using this network to reach the global scientific community, demonstrating the importance of science and innovation in transforming food systems.

Many noted the need to build on past achievements to enable concrete deliverables in time for the UN Food Systems Summit + 2 Stocktaking Moment (UNFSS+2) in July 2023. In addition, SAC deliverables must balance global and local needs while considering new international circumstances, such as rising geopolitical tensions and the cost-of-living crises.

Members also highlighted the importance of enhancing common understandings regarding metrics for food systems transformation. The issue of food systems governance was also very much discussed. Many stressed the centrality of finance for implementing the pathways and recommended more analysis of transition costs and food's true value.

In addition, the SAC members supported strengthening national research and innovation systems to effectively accelerate transformation at the country level. To do this, countries need support with enhancing processes for effective food systems governance. Some members noted consumers as vital stakeholders, suggesting more emphasis on this group.

On environmental impacts, it has been emphasized that transforming food systems must occur within planetary boundaries, with equity and justice noted as essential elements for transformative change.

The importance of adding analysis on multilateral trade rules was mentioned, with concerns about the growing impact of the chronic and acute crises and conflicts on food security and nutrition worldwide.

Policy advice on applying existing knowledge on agrifood systems transformation was also raised as a priority. Members were encouraged to build from previous scientific work during the 2021 UN Food Systems Summit while prioritizing impactful thematic areas and enhancing scientific outreach in a networked manner.
Charting the way forward
As the world continues to grapple with the impacts of the COVID-19 pandemic and the looming threat of future crises, we must focus on developing resilient food systems to avoid and prevent future shocks.

In his closing remarks, Maximo Torero, Chief Economist of FAO, challenged the SAC to consider how science and evidence-driven food systems transformation can help countries prevent or minimize the impacts of such crises. In closing, the Chief Economist noted the relevance of understanding how agrifood systems transformation can help countries to increase their resilience to prevent or minimize the impacts of future crises. He concluded by underscoring that "it is crucial to use, as a baseline, the scientific book published by the Scientific Group of the Food Systems Summit, and to strengthen modeling exercises and methodologies for measuring the impact of agrifood systems on climate change."

The next steps in the process include refining a SAC Work Plan by the SAC members with the support of the Hub and the recommendations from National Convenors and the wide ecosystem of support. To implement it, the SAC will meet regularly and play a significant, advising countries to build healthier, more sustainable, and resilient food systems worldwide.