Uniting Forces: Kicking off UNFSS+2 Preparations with Coalitions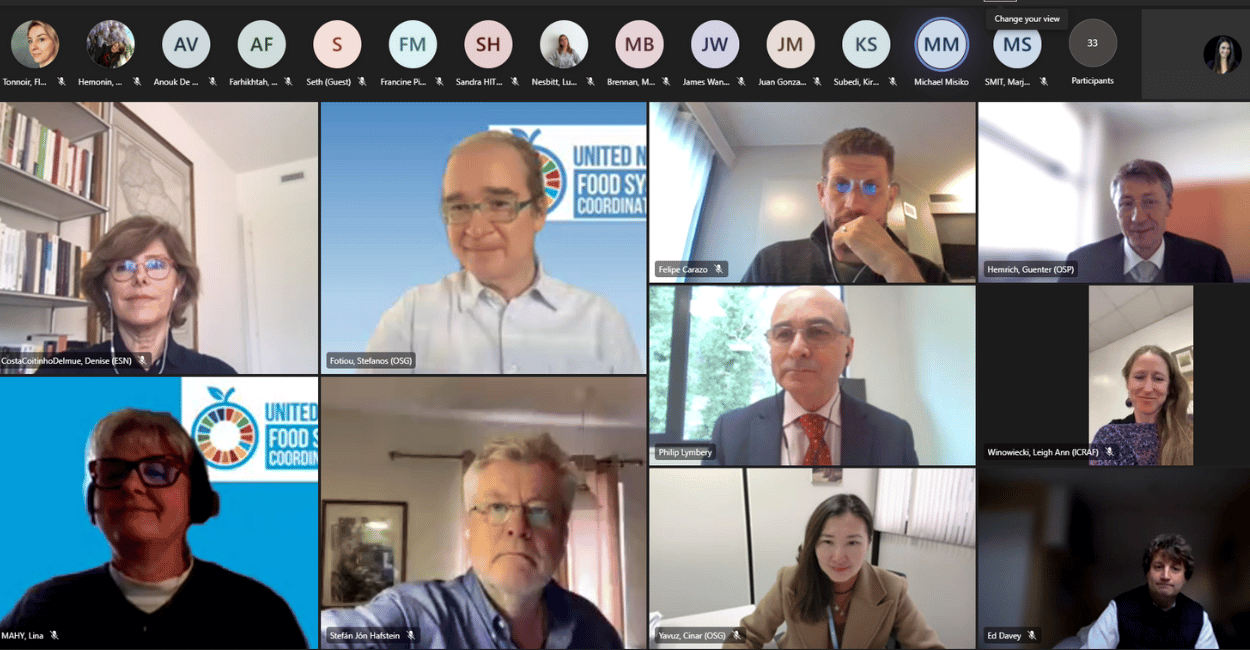 On 20 February 2023, the UN Food Systems Coordination Hub met with the focal points and members of the Food Systems Coalitions of Action to discuss the upcoming UN Food Systems Summit +2 Stocktaking Moment (UNFSS+2) scheduled to take place in Rome, Italy from 24 to 26 July 2023. The UNFSS+2 aims to showcase the essential role of food systems transformations in achieving the Sustainable Development Goals (SDGs) and provide a platform for countries to share success stories and early signs of transformation.
During the meeting, Stefanos Fotiou, Director of the UN Food Systems Coordination Hub, stressed the importance of inclusivity and avoiding working in silos in the lead-up to the UNFSS+2. While he highlighted the importance of communicating action, he also emphasized the value of presenting both successes and failures in food systems transformation efforts.
"What is the main question we need to answer in the Stocktaking Moment?" asked Mr Fotiou. "We need to demonstrate how we are collectively walking the talk of the Food Systems Summit; how we are delivering on the commitments made by countries, stakeholders, coalitions, the UN and other actors."
The meeting included an open dialogue session where coalitions had the chance to ask questions and discuss their expectations from the UNFSS+2 to ensure it is inclusive, impactful and solution-oriented.
Following this dialogue, Denise Costa Coitinho Delmue, Senior Consultant at UN-Nutrition, provided details on Session 6 of the 4th Global Conference of the One Planet Network Sustainable Food Systems Programme, which is co-organized by the UN Food Systems Coordination Hub and is in support of the UNFSS+2. Session 6 will focus on engaging the Ecosystem of Support for food systems transformation. Coalitions are invited to conduct a self-reflection on the extent to which they are adopting a food systems approach in their work and collaborating with other coalitions. All coalitions are highly encouraged to join this exercise to help break down working silos, build bridges across coalitions and support a common understanding of what a sustainable food systems approach is.
The Hub looks forward to more frequent meetings with coalitions to support effective collaboration leading up to the UNFSS+2, and extends its deep appreciation for the coalitions' commitment, interest, and engagement in helping countries implement their national pathways.
A copy of the presentation given by Stefanos Fotiou can be accessed here.