Launch of the Hub's Science Advisory Committee
The new Scientific Advisory Committee (SAC) supporting the Hub is officially launched at the 2022 World Food Forum in Rome, Italy.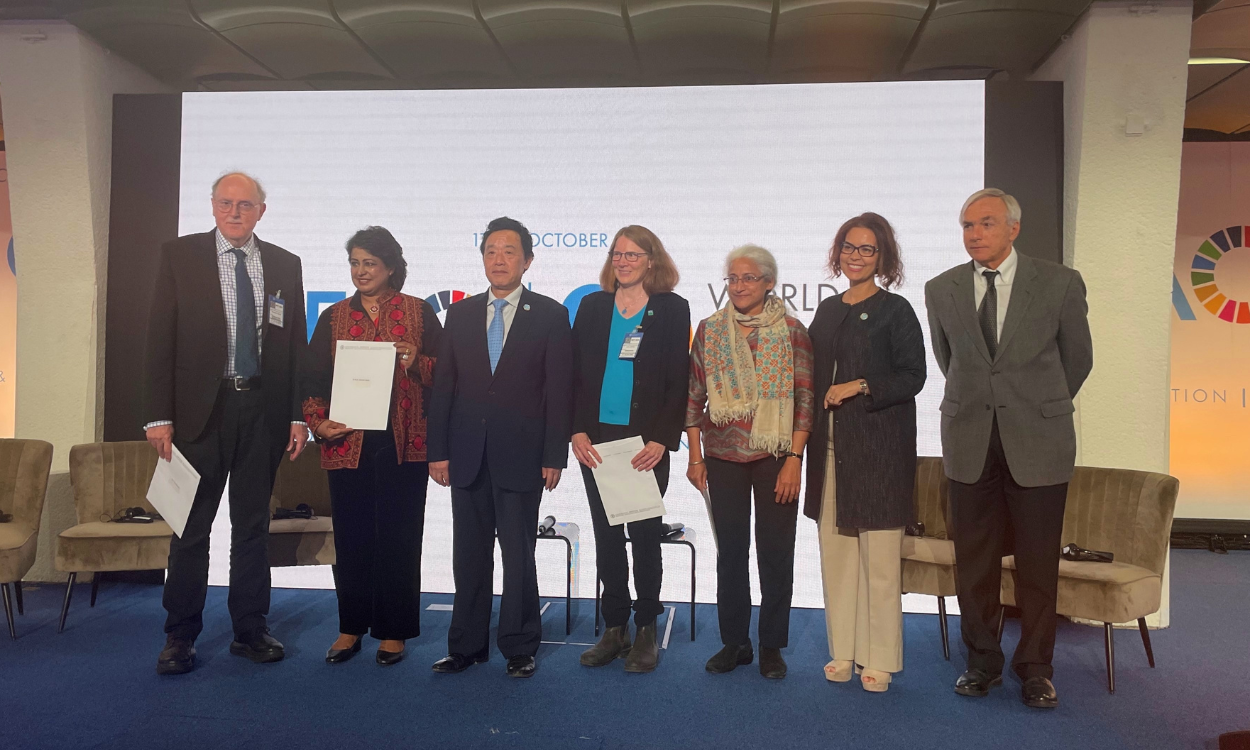 The FAO Director-General offers appointment letters to scientists from the Hub's new Scientific Advisory Committee.
Science and innovation play a crucial role in accelerating transformations for healthier, more sustainable and resilient food systems. To fill this role, a new Scientific Advisory Committee (SAC) was recently established to work with the UN Food Systems Coordination Hub in support of country action.
The SAC was officially launched at the World Food Forum on 8 November 2022 at FAO Headquarters in Rome, Italy. Members of the committee received appointment letters from FAO Director-General QU Dongyu and later participated in a panel discussion with FAO Chief Scientist Ismahane Elouafi on "The power of science on transforming food systems." Read a summary of the event from Hub Director, Stefanos Fotiou.
What is the role of the Scientific Advisory Committee (SAC)?
The SAC comprises 33 eminent scientists from around the world, dedicated to addressing systemic challenges that exist in transformation pathways through credible, evidence-based and science-driven solutions. Members were selected to represent the entire science ecosystem, including natural, social, economic and applied sciences, as well as sustainability science through an interdisciplinary and transdisciplinary approach.
Together, they will act as a broker of science and evidence, bringing forth their combined expertise to guide and support countries in the implementation of their national pathways. Support will be provided in the following ways:
Enhancing the food systems knowledge and evidence base;
Identifying scientific priority areas and emerging issues;
Strengthening science- and evidence-based decision-making processes;
Engaging the larger global scientific community and facilitating local or regional scientific networks;
Improving science-based evidence communication; and
Scaling up science-policy interface for informed policy-making.
Addressing the immense challenges facing our global food system will require an integrated and multidisciplinary approach. By harnessing evidence and expertise from across the scientific community, the SAC can help shift humanity towards healthier and more sustainable food systems.